The Staite Pullman
6th March 2005: Mainline Update 7802 Bradley Manor will head the next Past Time "Cambrian Coast Express" on Saturday 12th March see www.past-timerail.co.uk for more details, in place of LMS Mogul 2968.
Gerald Peacock 3rd March 2005
28th February 2005 will long be remembered as a big day in the life of Bradley Manor, as that is when our gallant loco pulled a Pullman train to Devon! "The Staite Pullman", a private special on Monday 28th February, was arranged in some secrecy and arranged as an appreciative gesture to Bernard Staite on his retirement for his services to the steam railway excursion trains and other railway work. Some considerable effort was required by everyone involved in the planning, and operation of this train. So how did the SVR and EMF get involved? Well it seems that 7802 Bradley Manor is one of Bernard's favourite locomotives and, unknown to him, a request was made for it to be one of the two engines chosen to haul the 11 coach Pullman train, together with 6024 King Edward 1.
For 7802 to be used, the first hurdle to cross was the installation of two through air brake pipes necessary to operate with the VSOE air brake Pullman train stock. As 7802 has no air brake control valve, the King, being fully equipped with compressor and operating gear had to be the leading engine. Many weekends and several weekdays had to be worked to complete the air pipes as deadlines approached ready for the engine's fit-to-run exam. Then on the Friday before the big day, a hole was discovered in the right hand main steam pipe from the regulator box to the super heater manifold! The offending pipe was promptly removed by SVR staff and repaired that day, ready for our volunteers to refit on Saturday. Not an easy job and requiring removal of two super heater elements to give access. While this was going on, the air pipe connections were being tightened. With everything finally boxed up, the fire was lit up late in the afternoon. Phew! More preparation on Sunday 27th and an examination was completed ready for an overnight run from Kidderminster to Bristol on Monday 28th leaving at 2.10 am. This was an unusual event as 7802 and its support coach had to meet with 6024 and its support coach at Worcester before proceeding together to Barton Hill depot in Bristol. A last minute emergency repair to cure a boiler feed clack valve problem on 6024 raised anxiety levels again. With steam raised again, final oiling and cleaning done, just after 9.00 am both engines and coach proceeded to Taunton to water and await the arrival of the special from London Victoria at 11.22 am hauled by "Western" class D1015."Western Champion".
After completing engine changes, 6024 and 7802 left Taunton in fine style, making short work of the climb to Whiteball tunnel. A brief stop at Tiverton loop then on to Torbay where the overcast clouds cleared, sunshine appearing and blue skies lasting all afternoon. On arrival at Paignton, the passengers, including all the great and good in the heritage railway world, left the train to visit local attractions. The empty stock was then hauled to Goodrington sidings where things became complicated as a broken air pipe connection had been discovered on 6024 which needed repair before the return journey. 6024 then proceeded first to Churston for turning, where the problem was fixed in the workshops there. Meanwhile 7802 was being serviced at Paignton and re-coaled before also running to Churston for turning. The repair to 6024 extended the stay on the Torbay line well past the 16.44 departure time. A good energetic return run followed to Newton Abbot but now running out of path, a series of yellow signals followed to Exeter which slowed progress. A further stop for water in the Tiverton loop was followed by another fine run over Whiteball summit. Due to the late running, it was decided that they would being taken off at Taunton instead of taking the train to Bristol as planned. By now it was snowing. Passengers gathered on the platform to see the engines uncoupled and after noisy farewells they disappeared off into the murky night to return to Bristol. D1015 Western Champion then took over the train for the run back to London via Westbury. 7802 eventually returned via Oxford arriving back at Kidderminster at 18.30 the following day. All in all, this unique excursion ran well and everyone seemed satisfied the way it went. The engines performed well on the road, a good effort by all involved, support groups once again saving the day. It may be some time, if ever, a special double headed train of this sort is seen again.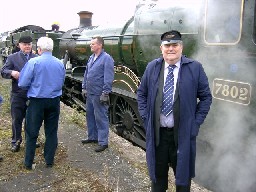 Man of the moment Bernard Staite in front of 7802 Bradley Manor
6024 King Edward I leads 7802 Bradley Manor head from Taunton with "The Staite Express"