[Photo: Tim Hargest]
In Service
7812 was named after the Manor at Erlestoke, a village near Devizes in Wiltshire. Built at Swindon Works, it was delivered new to Bristol Bath Road depot in January 1939 and served there and at Bristol St. Philips Marsh until April 1948, working passenger and freight trains to places such as Salisbury, Weymouth, Weston Super Mare and Cardiff. The records show that the engine was nominally sub-shedded at Weston-super-Mare on several occasions during this period.
From May 1948, 7812 was based at various West of England depots; Newton Abbot, St. Blazey, Plymouth Laira and Truro all played host, and the engine was to be seen double-heading larger 4-6-0s in Cornwall and on the notorious South Devon inclines, Dainton, Rattery and Hemerden. With the dieselisation of the GW lines in the West Country in the early 1960s, 7812 was transferred to the Cambrian section, being allocated to Oswestry from September 1960.
[Following its transfer to the Cambrian section, 7812 is seen at rest on Oswestry shed on 19 March 1961. Photo: Derek Palmer]
Here, 7812 joined future EMF sister locomotive 7802 Bradley Manor had been working in the Cambrian area for some years. Allocated to Shrewsbury from February, both locomotives were thought to have been withdrawn at Shrewsbury on 6 November 1965 and moved to Woodham Brothers' scrapyard at Barry in June 1966. However, in November 2015, evidence in the form of a footplate diary was presented to the Erlestoke Manor Fund, indicating that Erlestoke Manor was still in service on 13 November 1965.
[7812 seen still largely complete, not long after arriving at Woodham Brothers scrapyard in Barry on 13th September 1966. Photo: Bryn Jones]
In Preservation
7812 Erlestoke Manor is one of three Manor class locomotives based at the SVR, the others being 7802 Bradley Manor and 7819 Hinton Manor. The Erlestoke Manor Fund, organised initially by a group of Gloucestershire enthusiasts, purchased the engine in June 1973. First mooted in 1971 the idea of acquiring a Manor Class locomotive for preservation was suggested in an advertisement in the "Gloucester Citizen" inviting like-minded enthusiasts to take an interest. As a result, the Dean Forest Railway was formed though the idea of acquiring a Manor remained firmly in the mind of its proposers!
By 1973 the DFR was well underway and after inspecting the remaining Manors then at Woodham's, 7812 was selected as most suitable for preservation and the "Erlestoke Manor Fund" was formed by a group of like-minded DFR members. A meeting with Dai Woodham at Barry in February 1973 secured a reservation on the loco and its rescue was underway.
Raising the initial purchase price of the locomotive and tender presented a significant hurdle at £4,000 when the average wage was just a few hundred pounds per year. Fundraising included the sale of shares, donated relics and models, sponsored walks and donations. The introduction of VAT in March 1973 added a further £400 to the sum to be raised. To avoid a further price rise and with half the purchase price raised a loan for the balance was taken in June 1973 enabling purchase. 7812 was the 56th locomotive to leave Barry for preservation, departing in May 1974 initially to Parkend to attend an open day and then to the now-closed Dowty R.P.S preservation site at Ashchurch.
A move to the Severn Valley Railway followed on 23 April 1976, accompanied by two GWR breakdown vans numbers 66 and 162, and Fruit D 92090. Restoration of 7812 quickly began at Bewdley, where the locomotive was one of five to participate in the 'great boiler lift' on 3 May 1976.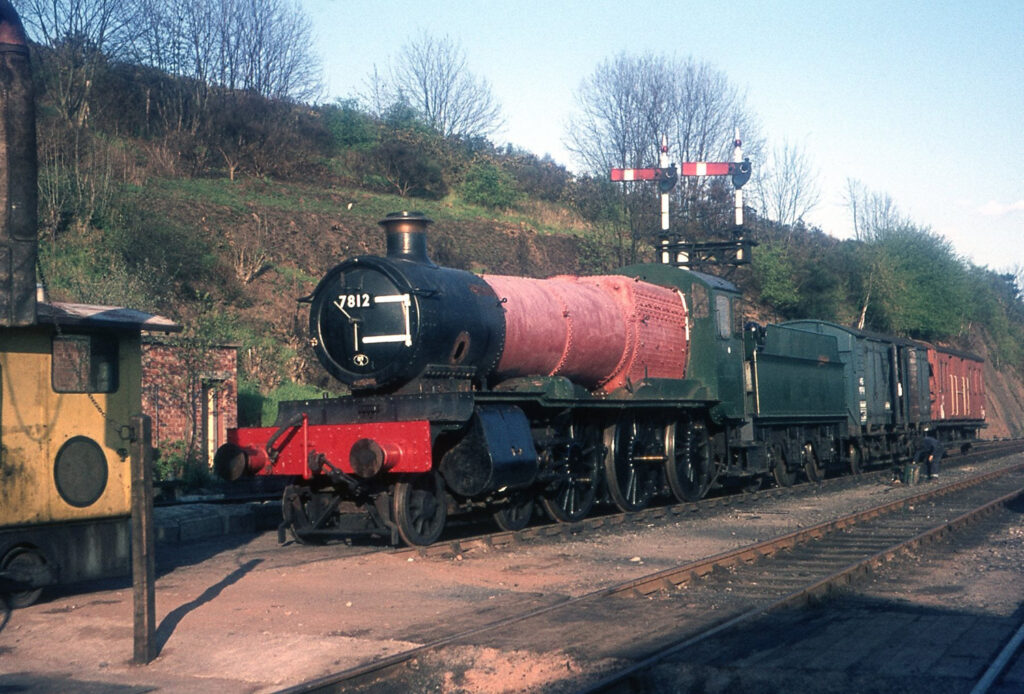 [Two years after leaving Barry scrapyard, 7812 plus support Fruit D & Riding van are seen in 1976 having just arrived at Bewdley having been hauled by rail from storage at Dowty RPS site, Ashchurch. Photo: Terry Jenkins]
Restoration was completed in time for 7812 to enter service on the SVR in September 1979, with the locomotive finished in the attractive B.R. lined green livery of the 1950s in response to popular demand. Service continued during 1980, but in Spring 1981 the locomotive was failed with boiler tube issues. These were addressed in time for a return to service in Spring 1982, following which 7812 made several appearances on main line rail tours along the Welsh Marches route between Shrewsbury and Newport.
[Following restoration, 7812 Erlestoke Manor returned to the mainline on 24th April 1982, when it worked the Welsh Marches Pullman from Shrewsbury to Hereford with 4930 Hagley Hall. The duo are seen here before taking the service over at Shrewsbury. Photo: Neil Evans]
7812 was withdrawn from service in late 1985 with a large crack in an old firebox weld. Following the withdrawal of sister locomotive 7802 Bradley Manor during the 2000 boiler crisis, the decision was taken to use Erlestoke's repaired boiler to allow Bradley Manor to make a quick return to service. A similar swap took place during April 1948 when boiler number 14/6406 was removed from Erlestoke and later fitted to Bradley in November 1948 following repair.
In due course, 7812's own overhaul was completed in time for a return to service in 2008, coinciding with the reopening of the SVR following serious flood damage, attached to a new 3,500 gallon well tank tender constructed using parts and wheelsets from an old tender. In November 2015, 7812 took centre stage in the SVR's 'Manor 50' weekend celebrating the 50th anniversary of the end of steam on the Cambrian network, along with 7802 Bradley Manor and visiting 7820 Dinmore Manor, bringing together three of the final surviving Manors that worked those final few weeks in November 1965.
[Accurately recreating the atmosphere of Cambrian steam workings of the 1960s, 7812 in Cambrian Coast Express regalia seen climbing Highley Bank during the Manor 50 weekend on 14 November 2015. Photo Joe Connell]
On 26 August 2016, the engine emulated sister 7802 Bradley Manor by achieving 100,000 miles of running in preservation, the event being commemorated with a special headboard announcing "Still going strong — 100,000 miles". In March 2017 the tender was fitted with a set of "goal posts". These were used in the early 1960s to warn train crew working "under the wires" on newly electrified lines. The addition has been made so that 7812 was in near-1965 condition during her final year in traffic. Following 10 years of trouble-free service, 7812's boiler insurance certificate expired at the end of the 2017 season, having accumulated a total mileage to date in preservation of 110,743 miles.
Following withdrawal from traffic, 7812 was moved to Tyseley Locomotive Works for an immediate full overhaul to commence. Managed by the EMF, with Tyseley Locomotive Works contracted to deliver the major aspects of the overhaul, it was quickly stripped down and repairs and refurbishment got underway in 2018. Progress was inevitably affected by the coronavirus pandemic in 2020 and 2021, but in late 2021, with the chassis well advanced, the boiler passed its steam test, to enable final reassembly of the locomotive to commence. 7812 Erlestoke Manor is expected to return to service on the Severn Valley Railway during the 2022 season.
[Preparing to run in service again, 7812 receiving 1956 British Railways Green paint courtesy of one of the EMF volunteer team in January 2022 as part of its overhaul at Tyseley Locomotive Works. Photo: Adrian Hassell]
Primary additional sources: Peto's Register of GWR Locomotives Volume 2, SVR Stock book 9th Edition, SVR Wiki.