October 2010 Update
Construction has started on Bradley Manor's new tender with the first Plasma cut profiles delivered by Corus.
These comprise of the; Rear Buffer beam, Buffer Plates x 2, Front and Rear Dragbox Plates, Front Footstep Plates x 2 and Rear Footstep Plates x 2.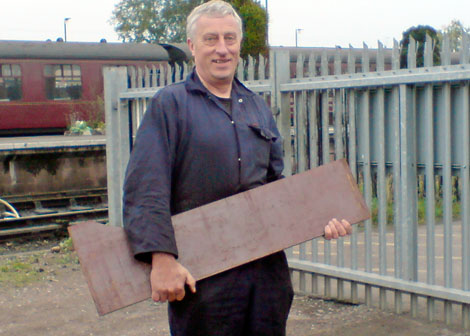 Terry Jenkins is holding one of the rear footstep backing plates at Kidderminster.
They were then loaded into the Guards van and moved to Bewdley, pulled by "The Pig" – shame it wasn't 7802!
Loading and unloading 8′ x 10″ x 1″ thick steel platework, by hand, was fun! Work will soon begin on marking out then drilling…