May 2022 Update
Plenty of news of a number of fronts this month as we have been making progress in varying forms with respect to two Manors, one Large Prairie and two tenders, with added and appreciated help from a gang of West Somerset Railway volunteers alongside our regular EMF volunteers to help move things along! Read on for news on 7812, 7802 and other projects….
7812 Erlestoke Manor seen at Tyseley Locomotive Works on 7th May in the process of being turned out as a Cornish locomotive representing its September 1959 – September 1960 period as Truro allocated locomotive. Cambrian aficionados need not worry as 7802 Bradley Manor will be remaining as a Welsh locomotive! [Photo: Adrian Hassell]:

7812 Erlestoke Manor Overhaul Update
Since March, the focus on completing 7812 Erlestoke Manor has seen Tyseley Locomotive Works staff lag and clad the boiler and firebox, EMF volunteers continue to fit out the cab pipework and floor, our contract painter make great progress in finish painting the locomotive and a second team of EMF volunteers working on recommissioning 3,500 gallon tender T2334 to be paired with Erlestoke. It is very much all go as the myriad of tasks that need to be completed before 7812 can steam again are worked through!
The cab area of 7812 seen on 26th April with pipework reassembly well underway and steelwork for a new cab floor laid out prior to cutting and welding. [Photo: Adrian Hassell]:
On 30th April, painter Scott Barnes prepares the fireman's cab side for lining out, assisted by West Somerset Railway volunteer Duncan Hensley [Photo: Terry Jenkins]:
By 3rd May, the lining out had been completed by Scott [Photo: Adrian Hassell]:
Also on 3rd May, 7812 Erlestoke Manor is seen with boiler and firebox now clad, BR green topcoat paint applied, with some rubbed down awaiting further coats, and the smokebox painted. [Photo: Adrian Hassell]:
Some of the 'finishing touches' have also been completed in readiness for when they are needed. Here Scott is seen lining out one of the cab side numberplates [Photo: Adrian Hassell]
And also standing with his handiwork on the name plates [Photo: Paul Fathers]:
3,500 Gallon Tender T2334
This is not a vehicle which has had much of a mention in recent times, as it has been in store at Tyseley Locomotive Works since summer 2019, having been paired with 7802 Bradley Manor until the point of 7802's piston rod failure, and prior to that running with 7812 Erlestoke Manor from 2008 – 2017. This tender is now being recommissioned for use with 7812 again, including a full examination, some light repairs and partial repaint.
On 30th April, a team of volunteers travelled up from the West Somerset Railway to work their magic on restoring the paint finish on the tender tank. The previous paint work is still of a high quality with few areas requiring any remedial touching up, but the top surface was well ingrained with general dirt and brake dust from its previous period in traffic. Cue WSR volunteers Aaron Manly, Duncan Hensley and Chris Northey to offer their services in restoring the finish through a process of first removing the ingrained dirt, following using Clay Bar to take the previous coats of varnish off. The end results look splendid and have provided a sound surface for local touching up followed by revarnishing to match 7812. Our thanks go to Aaron, Duncan and Chris for this! [Photo: Paul Fathers]:
Meanwhile at the leading end of the tender, EMF volunteer Andrew Boucher was starting on the repaint below the coal space on 26th April [Photo: Adrian Hassell]:
On 7th May Ricky Sault was progressing the bitumen paint that is used to protect the coal space [Photo: Adrian Hassell]:
A week later on 14th May, Dave Giddins was at work undercoating the rear buffer beam [Photo: Adrian Hassell]:
7802 Bradley Manor Repair Update
Preparation work for 7802 Bradley Manor's cylinder block replacement and associated works reached a further milestone in May when, following considerable preparation work, the damaged original cylinder block was lifted from the locomotive at Tyseley Locomotive Works. As a result, some parts of 7802 are seeing the light of day for the first time since construction at Swindon in 1938!
A very bare looking 7802 is seen with boiler, cylinder block and leading bogie removed at Tyseley on 17th May. Areas such as the racking plate which the cylinder block sat upon can now be examined. [Photo: Chris Field]: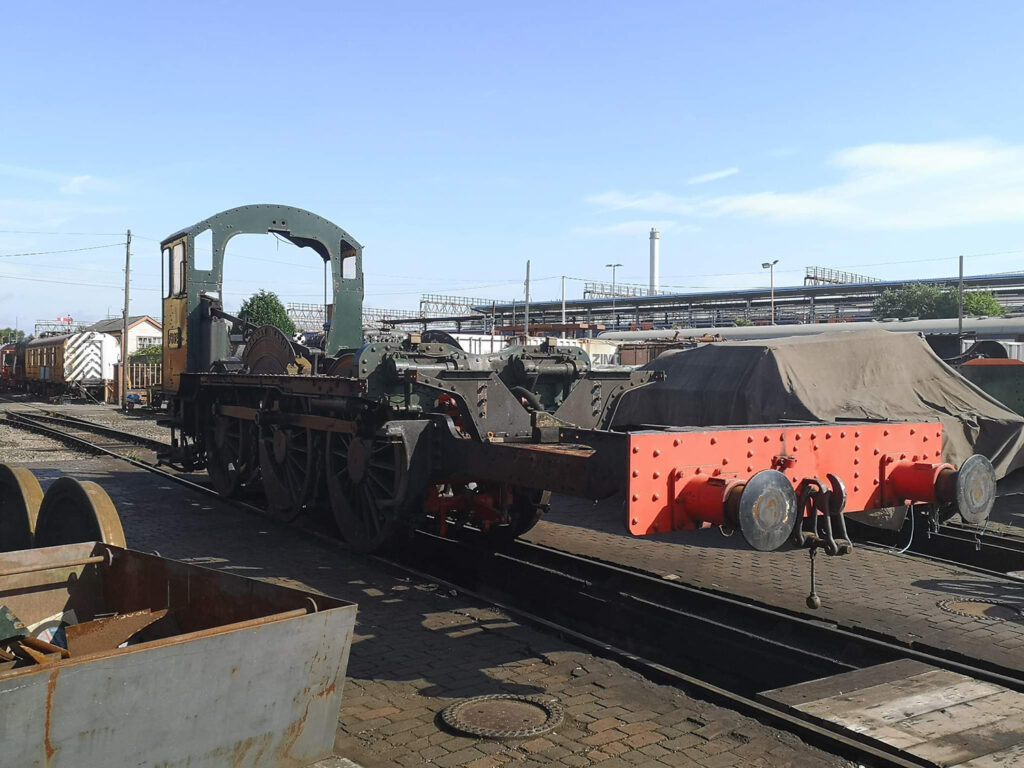 The old cylinder block seen having been lifted from 7802. Some of the damage caused by the piston rod failure in 2019 can be seen on the cylinder bore nearest the camera [Photo: Chris Field]: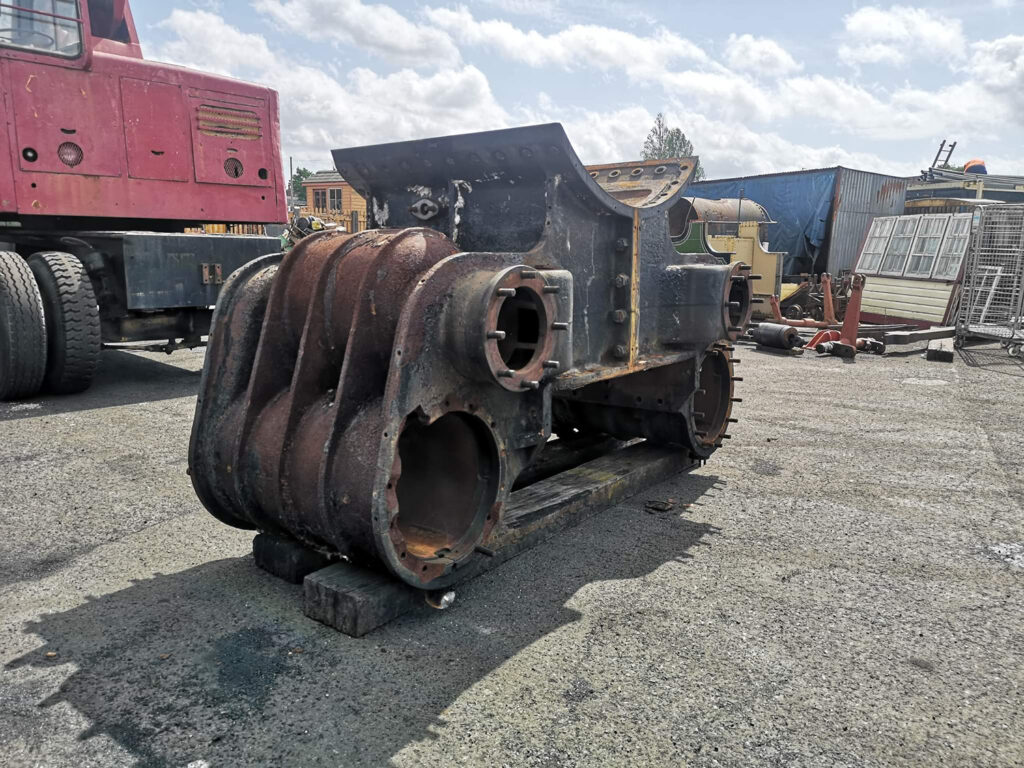 Having been removed from below the cylinder block, 7802's leading bogie will undergo some refurbishment over the coming months [Photos: Adrian Hassell]:
At the other end of Tyseley Works, 7802's boiler now sits in the location occupied by 7812's boiler until a few months ago. This boiler will be prepared for examination and non-destructive testing over the next couple of months to ascertain any work that should be undertaken while it is removed from the locomotive's frames [Photo: Adrian Hassell]:
Large Prairie 5164 Update
Back-office activities are underway to plan and cost for a future overhaul of 5164 once 7802 has returned to traffic. With the costs of many materials and components rising sharply, and with no signs of abatement, we have allocated a budget to purchase components that we have certainty will be required at the earliest opportunity before prices rise even further. Some of these advance orders are now arriving to be held in stock until the day that they are needed, including this pair of radial truck (the trailing axle) springs, which are part of an order placed for a full set of wheelset springs for 5164. [Photo: Chris Field]: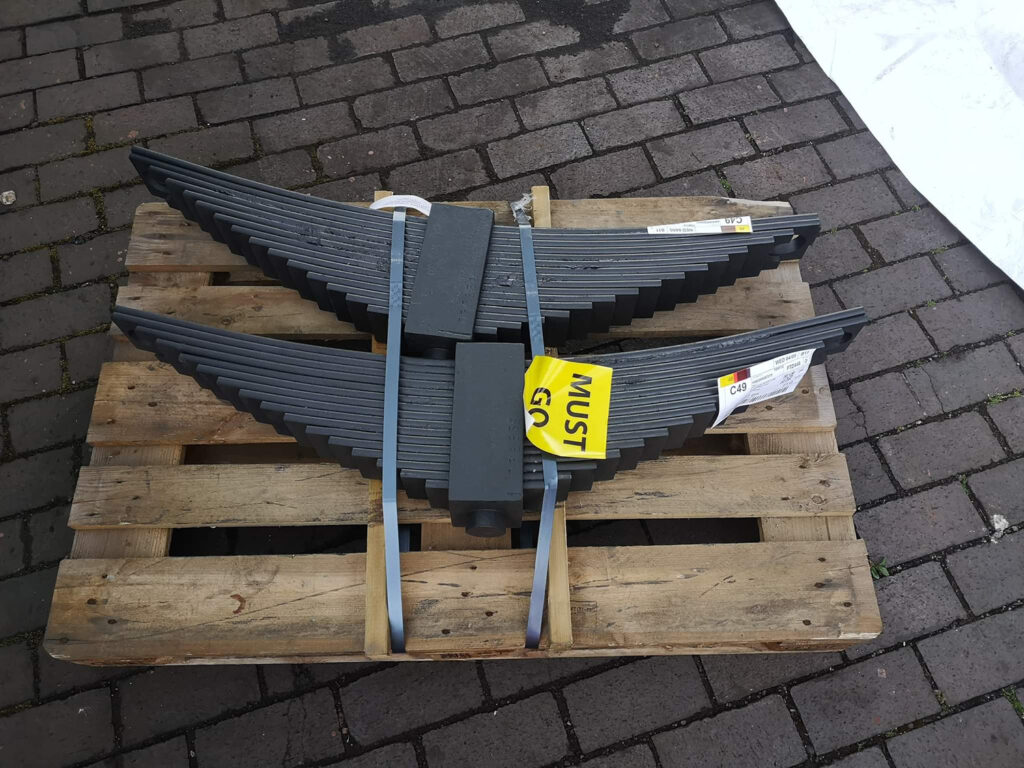 On display in Barrow Hill Roundhouse, Chesterfield, 5164 patiently waits for its future overhaul [Photo: Adrian Hassell]:
Please do watch this space for news in the coming months of launching the fundraising appeal to help restore 5164!
New build tender T2329
Work quietly continues on new build 3,500 gallon tender T2329. In addition to completion of top coat gloss painting of the wheelsets during the last month, we taken delivery of this pair of water delivery pipe elbow castings. Typifying the teamwork approach that we try to embody in our engineering activities, these have been cast by the Severn Valley Railway, machined by the West Somerset Railway and will be fitted in due course by EMF volunteers [Photo: Terry Jenkins]:
That's all for this month, bit please do keep tuned over the next couple of months as the return to steam of 7812 gets ever nearer! If you are interested in supporting an active future for 7812, 7802 and 5164, please visit https://www.erlestokemanorfund.co.uk/want-to-help for further information.