May 2019 Update
Bradley Manor loan move to West Somerset Railway:
As has been reported elsewhere, 7802 Bradley Manor went to the West Somerset Railway this week until early October as part of a locomotive exchange with Modified Hall 6960 Raveningham Hall, which also allows this former SVR resident to renew her acquaintance with Severn Valley this summer.
Bradley Manor is no stranger to the West Somerset Railway either having a made previous visits in the 1990s and 2000s. Look out for a number of events at the WSR that will involve 7802 – including double heading with 7828 Odney Manor on a 14 coach special on Saturday 8th June as part of a weekend of celebrations for the 40th anniversary of the WSR – details of which can be found here: https://www.west-somerset-railway.co.uk/news/detail/west-somerset-railway-40th-anniversary-evening-special-mega-train
6960 arrived at Bridgnorth on 22nd May, where places on the low loader were promptly exchanged, and by the late evening 7802 had arrived safely at Bishops Lydeard where it was unloaded on to WSR rails the following morning.
Outside Bridgnorth boiler shop on 22nd May, with 6960 having already been unloaded, 7802 is winched onto a low loader for the journey to Somerset [Photo: Gareth Price]: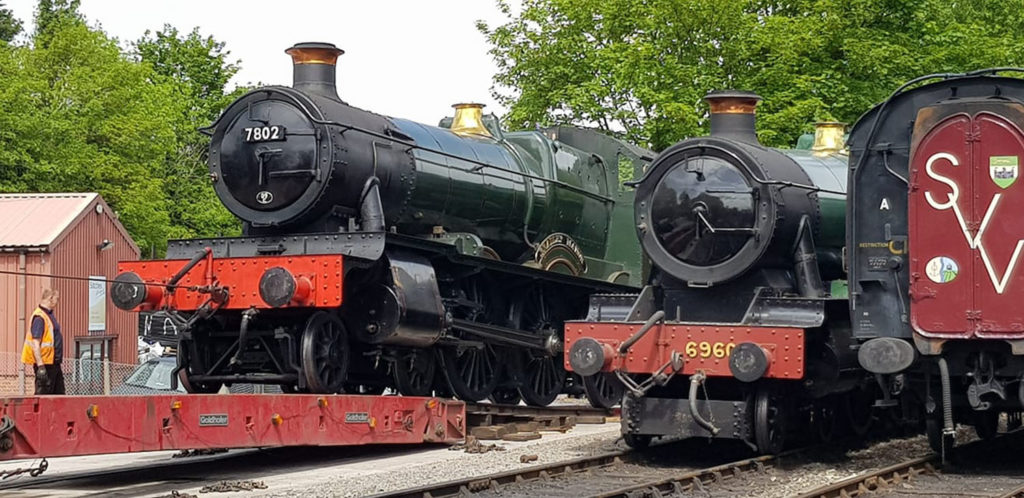 This swap has been possible through the good working relationships established between the Erlestoke Manor Fund, West Somerset Railway, Locomotive Services Limited and the Severn Valley Railway.
2019 Events:
The Fund's annual "Obbo" trip was an enjoyable double journey in one of the SVR's smart Observation Saloons on Thursday 9th May with excellent food and refreshments served along each return journey. Apart from this, the event provided some welcome funds for the EMF coffers. 34 guests in total joined the event. Do watch out for the 2020 version next Spring.
A different view of 2857 as seen from the Observation Saloon on 9th May [Photo: John Oates]: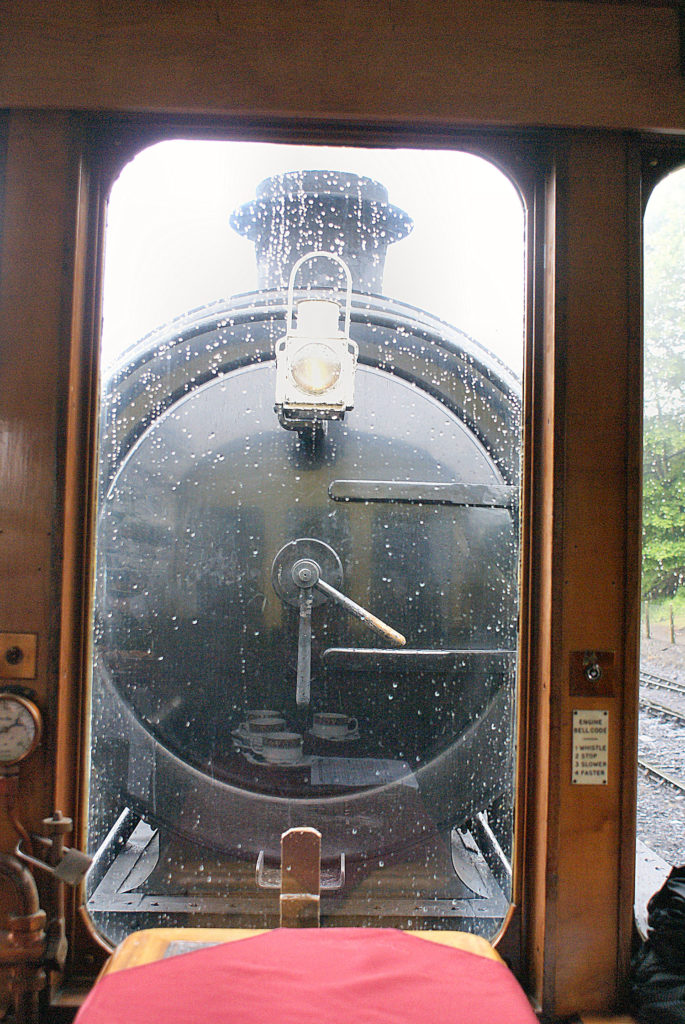 Also, with the forthcoming Fund AGM on Saturday 13 July, it is planned to operate a special charter after the meeting. Watch out for final details which will be published in the near future, alongside AGM details.
Maintenance Round-up
7812 Erlestoke Manor overhaul at Tyseley Locomotive Works:
A variety of tasks have continued on 7812 this month working towards rewheeling the locomotive.
On 1st May, Philip Hammond applies the first coat of red oxide primer on one of 7812's front running plate supports, while Painting Director John Whitcomb supervises and seems happy with result… [Photo: Des Ainsworth]:
Also on 1st May, Stuart Tayles of Tyseley Locomotive Works is seen grinding the horn guide faces on 7812. This will allow the necessary measurements to be taken for the axleboxes to be machined [Photo: Adrian Hassell]:
Non-destructive testing is underway over Erlestoke Manor's frames, boiler and motion to detect for hidden/fatigue cracks and also test plate thicknesses. On 22nd May, the frames and motion were tested as seen here [All photos: Adrian Hassell]:
Testing a lifting link from the valve gear:
Gary Meadows, Philip Hammond & Bill Burnett seen here cleaning and preparing the coupling rods for testing:
Gary and Philip then watching on as they were tested for any hidden or fatigue cracking and given a clean bill of health:
From the Archives:
We are grateful to have received a number of photographs from Steve Richards of 7812 Erlestoke Manor working its final months of traffic with British Railways that he took in 1965, seen at Aberystwyth shed:
Followed by two at Borth:
And also at Dovey Junction:
A much more recent archive photo of 7812 in much cleaner condition was taken on 23rd March 2014, where Erlestoke Manor was seen approaching Bewdley form Kidderminster [Photo: Michael Howard]: