March 2022 Update
Boilers – One In, One Out!
Welcome to this month's news update which catches up on activities since the new year. The main news this month is that on 22nd February, 7812 Erlestoke Manor was reunited with its repaired boiler at Tyseley Locomotive Works. This milestone unlocks the final raft of tasks to complete the locomotive's overhaul and returning to operation on the SVR later this year. More about progress with 7812 below.
Not wishing to be outdone and following closely on from 7812's boiler being refitted, 7802 Bradley Manor's boiler was lifted from its frames on 15th March as a precursor to the major cylinder block repair commencing at Tyseley, once 7812 vacates the works.
On 22nd February, overhauled boiler 6421 is lowered into 7812's frames at Tyseley Locomotive Works. [Photo Alastair Meanley]: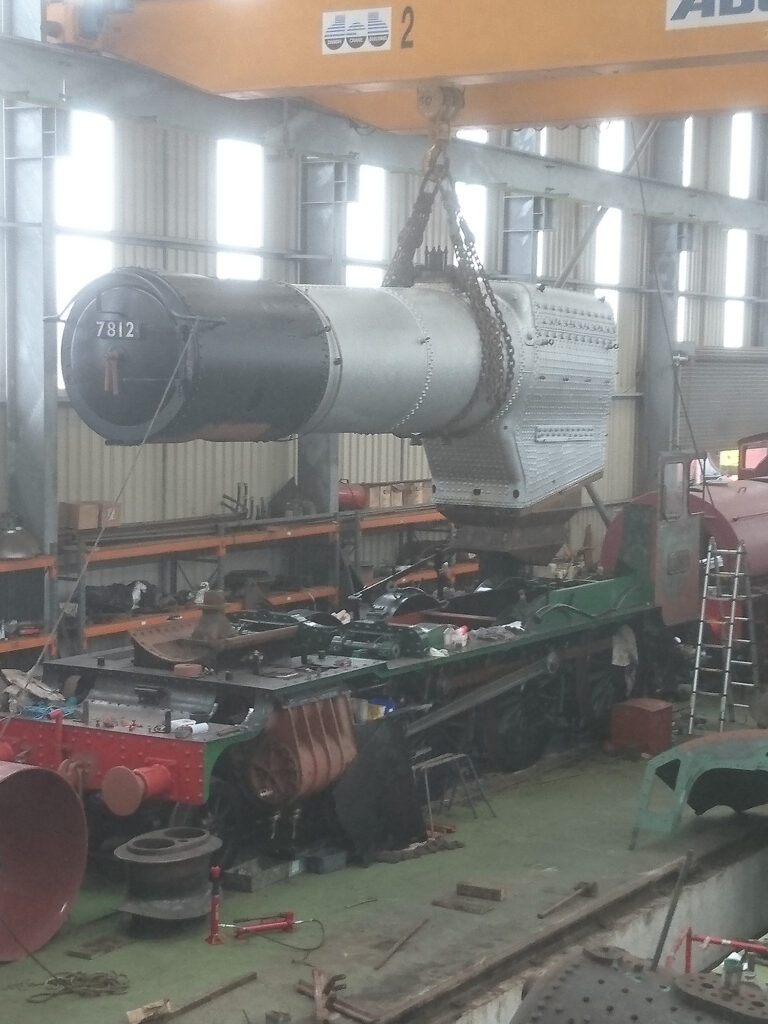 7812 Erlestoke Manor Overhaul Update
With the boiler being refitted during recent weeks, there is much activity to report this month with the final push to reassemble Erlestoke Manor continuing. A strong turnout of volunteers on both weekdays and weekends has allowed good progress to be made this winter, which if we sustain over the next few months will ensure that the return to steam of 7812 is not too far off now. Read on for news and photos on how 7812 is coming back together….
January and February saw effort focussing on completing tasks on 7812's chassis which would become harder once the boiler was refitted. All photos by Adrian Hassell, unless otherwise stated.
On 5th February, James Cooper and Max Stockin are busy gloss painting the rear of the frames and dragbox areas. [Photo: Nick Willcox]:
Also on 5th February, EMF volunteer Andrew Boucher is seen putting another coat of Venetian red paint on the valve gear while it was still readily accessible. [Photo: Nick Willcox]:
A few weeks later, reunited with its boiler for the first time since 2018, 7812 is looking like more of a complete locomotive again:
Refitting the boiler enables a raft of fitting tasks to proceed. On 26th February, Terry Jenkins and Bill Burnett make a start refitting refurbished fittings and pipework to the firebox backhead:
Below the cab floor, both overhauled injectors have been refitted along with associated pipework runs:
While the cab roof was removed to allow the boiler to be lifted back on to 7812, the opportunity was taken to gloss paint it at ground level on 26th February:
Moving on to the 12th March, advantage of the fine weather was taken to carry out final preparation tases for the boiler and firebox cladding, so that it can be refitted in the coming weeks. Here, Ricky Sault, Trevor Sault and Paul Spence are seen flatting down some of the firebox side sheets in readiness for undercoating:
Later on, Paul Spence has moved on to glossing the all important tea can shelf which sits above the firebox doors:
Andrew Boucher is seen gloss painting a section of steam pipe cladding, with a piece of firebox cladding in the foreground having already had green undercoat applied:
Having wasted no time during the previous couple of weeks, by 12th March the fitting gang had installed considerably more of the cab pipework runs and other fittings. Meanwhile, the Tyseley Works staff had refitted the cab roof:
New build tender T2329
Finally, while the overhaul of 7812 remains our immediate priority, our other EMF projects are not forgotten… On Saturday 12th March, Jane Preece is seen undercoating all three wheelsets for 3,500 gallon tender T2329. Work on this project will pick up pace again once 7812 and 7802 return to traffic.