March 2020 Update
Welcome to this month's news roundup and, needless to say, the current national and global situation will pose challenges for the Erlestoke Manor Fund as with all organisations in the coming months. Naturally, and in line with government advice, we have suspended our regular weekday and weekend volunteer working parties until further notice, however contract work on both Bradley and Erlestoke Manors will continue as much as is possible along with appropriate home working volunteer activities. We will seek to sustain as much momentum as possible with the repairs to 7802 and 7812 during the coming months and continue to support the engineering businesses who undertake contracts for the EMF where we can.
We are of course keeping the situation under regular review with regards to if further activities should cease, or when they can resume in some form. In the meantime, we will continue to provide regular updates when possible and hope that all our supporters are able to stay safe and well.
Cylinder Blocks for 7802 Bradley Manor Cast!
Moving on with some good news – the new pair of cylinder blocks for 7802 were poured in early March and are now in the process of being inspected, cleaned up and fettled. We believe that these are the first 78xx class cylinder blocks to be cast for 70 years!
Andrew Timmins, Premier Patterns and Castings Ltd. has sent photos of the results so far: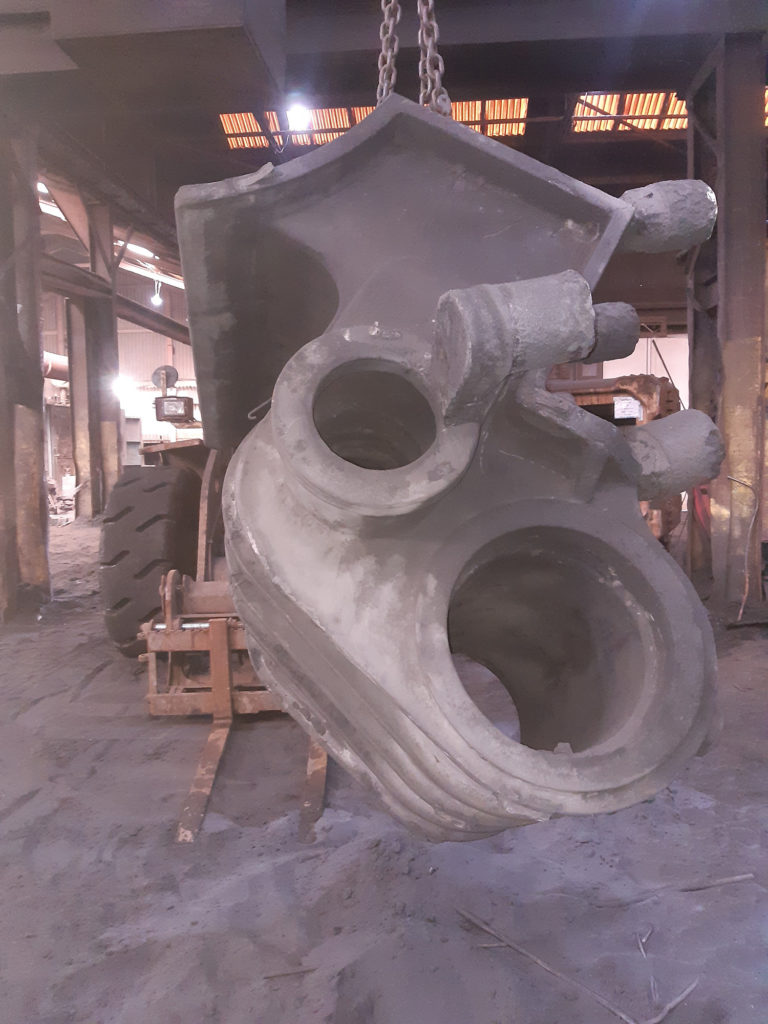 The second block to be cast having been broken from the mould and being cleaned up ready for shot blasting.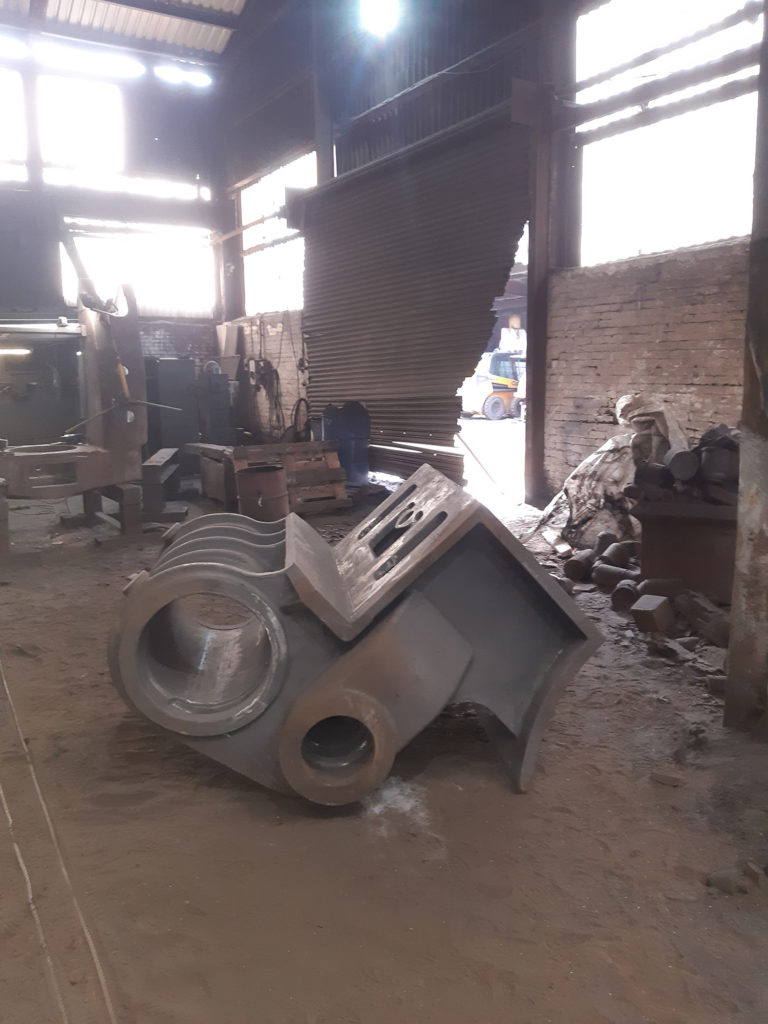 The first block to be cast with fettling nearly completed. To get to this stage took nearly two weeks work.
Once fettled, both blocks will be heat treated in a (very) large oven to de-stress them.
Meanwhile, the Fund has taken delivery of new piston rods and piston head castings for both 7802 and 7812. 7802, of course, requires these as part of its repair and it has been decided to replace the existing British Railways era piston rods on 7812 while under overhaul as a matter of prudence. These did not fall under the insurance payment for the failure of 7802, and it is components such as these that the Two for 2020 Appeal has helped fund.
New piston rods delivered to Tyseley Locomotive Works on Tuesday 10th March [Photo: Des Ainsworth]:
New piston head castings to accompany the rods also on Tuesday 10th March [Photo: Des Ainsworth]:
Finally, Bradley Manor is seen on Saturday 29th February at Tyseley having been further stripped down for taking measurements and checking of dimensions by Tyseley Locomotive Works staff.
The repairs to 7802 are largely being done under contract, with limited volunteer input, so should be largely unaffected by the suspension of EMF volunteer working parties.
7812 Erlestoke Manor Overhaul Update:
Good progress has been made in late February and March by Fund volunteers in reassembling, the refurbished brake rigging on the locomotive.
On Saturday 29th February, Andy Poole and Paul Fathers are seen applying first undercoat black to the re-bushed brake hangers [Photo: Adrian Hassell]:
Followed by Peter Evans applying further coats of black paint to brake rigging components on Tuesday 10th March [Photo: Des Ainsworth]:
By the following Tuesday 17th March, the volunteer working party were then able to have session refitting the brake gear to 7812. The following two photos show this under way with Terry Jenkins, Mike Solloway, Gary Meadows and Ian Whitlam: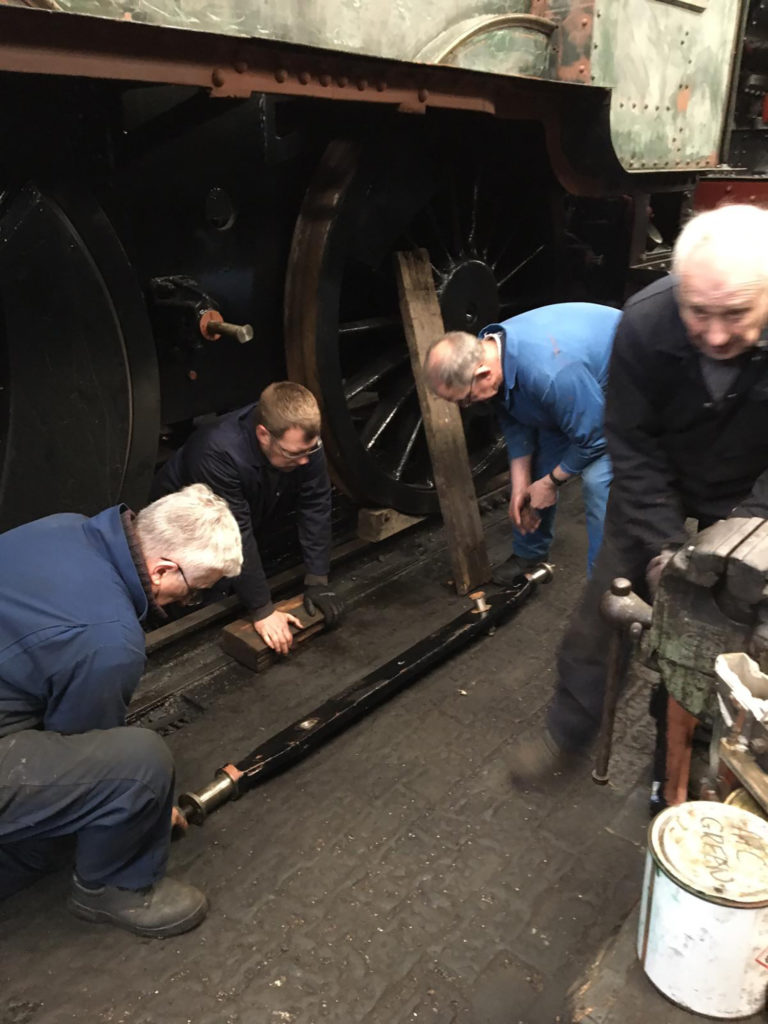 Meanwhile, on the boiler side of things, Tyseley Locomotive Works staff are now fitting the new copper stays into the firebox as seen here on 29th February [Photo: Adrian Hassell]:
Tuesday 17th March was likely to be the last volunteer working party on 7812 at Tyseley for some time as the decision was taken to suspend these in the current circumstances, although contract work will continue and we will maintain as much momentum with the repair of 7812 as possible. On the last day for the present time, a group of EMF members appropriately pose with a 'Gentlemen' sign at Tyseley Locomotive Works….
Two for 2020 Appeal
The Erlestoke Manor Fund's 'Two for 2020 Appeal' to bridge the £25,000 shortfall in funds towards completing the repairs of both 7802 Bradley Manor & 7812 Erlestoke Manor passed the £7,000 mark in March, providing valuable support towards the return of the locomotives to traffic and has been a great response. We are still striving to return 7802 and 7812 to traffic for the end of the year, however the uncertain times due to suspension of services on the SVR and reduction in EMF volunteer activities does bring some uncertainty to specific dates at present.
We remain extremely grateful for all donations, share purchases and messages of support received to date and the sight of new piston rods and piston head castings, as seen above, shows some of what this support has helped deliver to date.
The appeal, of course, remains open and if you are able to help there is still a considerable shortfall to close. For further information, please see here: https://www.erlestokemanorfund.co.uk/two-for-2020-appeal
EMF Sales Coach
A message from David Kilner (EMF Trustee and Acting Shop Manager) about the Fund's Sales Coach at Bewdley Station:
Sales Coach Temporary Closure:
We very much regret that the shop is now closed until further notice.
But never fear, we will be back! Also, we are endeavouring to maintain a service remotely by email and using our website and whatever other means we can.
This is to enable us to continue to help returning our two locomotives 7802 Bradley Manor and 7812 Erlestoke Manor to service on the SVR. Work on these two locomotives has not stopped and is continuing at Tyseley Locomotive Works with the objective of seeing both of them back in service on the SVR hopefully later this year, but certainly in 2021.
Keep an eye on our website www.erlestokemanorfund.co.uk/shop to keep in touch. Specific enquiries on items that you may be interested in can be emailed to me at kilner218@btinternet.com.
Keep fit and well. We'll be back!
From the Archives
Finally, a couple of archive shots as a reminder of the Manors in steam, which is something that we hopefully won't have to wait too long to see and hear again….
First, 7802 Bradley Manor departing platform 4 at Shrewsbury Station with the Shrewsbury – Aberystwyth section of the Down Cambrian Coast Express on the 21 August 1962:
In preservation times, a group of EMF volunteers gathered for a photo in front of their handiwork – a recently finished Erlestoke Manor at Bridgnorth back in early 2008: