Mainline Tour Report
Bradley Manor returned to the mainline on the 31st August, this time with a completely successful run on the Torbay Express to Kingswear from Bristol and back on 31st August. On this occasion, the train took the scenic route on the outward leg via Bath Spa, Bradford-on-Avon, Trowbridge and Westbury, diverted because of engineering works on the more direct route to Taunton between Parson Street Bristol & Uphill Junction, which the train rejoined at Cogload Junction. Passengers booked on the trip at either Western Super Mare, Bridgewater, Cardiff & Newport were coached by road to either Bristol or Taunton. The extra thirty miles of the journey behind steam, plus additional water stop at Westbury, required the Bristol departure to be brought forward by 74 minutes to 07.54, to maintain the booked timetable from Taunton with 7802 Bradley Manor departing on time with 9 maroon Mk1 coaches with looked very nice under Temple Meads overall roof.
Despite the diversion, the word had spread sufficiently for there to be many onlookers at bridges and stations en route, to admire the sight and bark of the first Manor class engine to penetrate the upper reaches of the Avon valley for very many years. However, the message unfortunately had not reached a considerable number who also waited in vain on Bridgwater station. By the time the train had reached Dawlish timings had slipped slightly, not helped by being put into the loop & let straight back out again much to the amusement of the Past Time stewards. Paignton was reached & the EWS crew replaced by Paignton & Dartmouth Railway crew to take the train onwards to Kingswear. Included in the ticket price was a ferry trip across to Darmouth to sample some of the wateringholes & eateries of Dartmouth & soak up the atmosphere of Dartmouth Regatta. Mention at this point must be made to the Cherub Inn & it's excellent Cherub Ale of which a number of pints were consumed while listening to a band outside. Back to Kingswear for the booked departure time of 15.55 which slipped slightly but with spritely running from Paignton to Exeter St Davids, the water stop was departed on time with more excellent running the next scheduled stop at Tiverton Loop was avoided as network control agreed to dispense with the timetabled regulatory stop in Tiverton loop gave 7802 a straight run up Whiteball with 9 on, a rough timing on 30 minutes from Exeter to the Tunnel mouth was a very credible run arriving at Taunton for water some 35 minute early. The train arrived similarly ahead of time at Temple Meads to complete a 252 mile round trip behind steam! Excellent photographs taken by linesiders of this train and the earlier Torbay express trains have already been posted on tauntontrains website.
Actual Tour Timings
Bristol Temple Meads 07.54
Bath Spa 08.11
Westbury (water) arr 08.47 dep 09.29
Fairwood Jct 09.33
Clink Rd Jct 09.38
Blatchbridge Jct 09.41
Castle Cary 09.55
Cogload Jct 10.22
Taunton (water) arr 10.29 dep 10.57
Tiverton Parkway 11.20
Cowley Bridge Jct 11.37
Exeter St Davids (water) dep 12.07
Dawlish Warren 12.25
Newton Abbott 12.34
Aller Jct 12.36
Torquay 12.47
Paignton (crew change) arr 12.59 dep 13.19
Churston 13.26
Kingswear arr 13.55
Kingswear dep 16.10
Paignton (crew change) dep 16.51
Torquay 16.56
Newton Abbott arr 17.12 dep 17.15
Dawlish Warren 17.30
Exeter St Davids (water) arr 17.48 dep 18.17
Cowley Bridge Jct 18.20
Tiverton Loop 18.41
Whiteball Tunnel 18.46
Taunton (water) arr 19.00 dep 19.18
Cogload Jct 19.25
Bridgewater 19.33
Highbridge & Burnham 19.40
Uphill Jct 19.50
Weston Super Mare arr 19.54 dep 20.00
Worle Jct 20.06
Bristol Temple Meads arr 20.30
7802 heads the Torbay Express away from Exeter. Copyright J Southall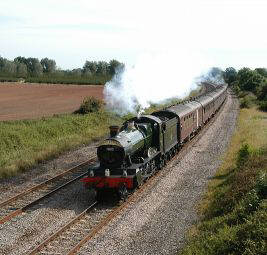 7802 heads the Torbay Express past Creech. Copyright Bob Tucker