June 2020 Update
Welcome to this news round up from the EMF covering the Spring period and we hope that all our supporters have been able to stay safe and well in recent weeks. While the effects of the Coronavirus lockdown continue to curtail many of our activities, including all of our volunteer working parties and the Fund Shop, some engineering activities have been able to make progress of which more news below. We are continuing to keep the situation under review as to when wider activities may safely be able to resume in some form.
7812 Erlestoke Manor Overhaul Update:
Following considerable work and before lockdown restrictions curtailed activities, 7812's bogie underwent final reassembly at Tyseley Locomotive Works.
First we see the wheelsets with axleboxes and spring beams [All photos: Chris Field]:
The bogie frames ready to receive the wheelsets:
Refitting under 7812 was then done using the wheeldrop, and the reassembled bogie is seen below back in place.
A closer view of the coupling rods which had also been refitted:
7802 Bradley Manor Repair Update:
Amid the disruption and uncertainty of lockdown, machining work on the newly cast, replacement cylinder blocks for Bradley Manor has fortunately been able to proceed through May, following the heat treatment of the castings to de-stress them saving considerable time compared to traditional means of curing large castings. As seen in the accompanying photos, the blocks are now being machined at Roach Precision Engineering Ltd of Brierley Hill with delivery expected in July.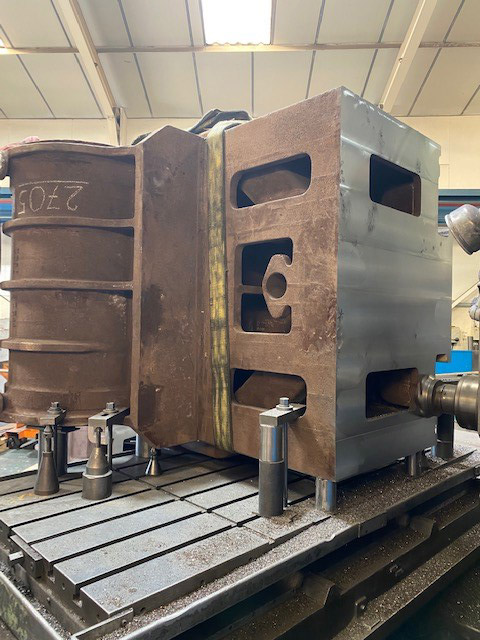 The EMF is following what has become a reasonably familiar path with recent similar work by this company undertaken for 4930 Hagley Hall, 3850, 4561 and now 7802 Bradley Manor. 4709 is next in the queue to follow. To get to this stage has been a real team effort and our list of thanks includes:
Kevin Dare: Original drawings promptly located and forwarded by GWS Didcot.
Elliot Powick: 3-D Modelling to facilitate modern pattern making.
Andrew Timmins: The patterns were by Premier Patterns, Castings by Shakespeare Foundry and Heat Treatment by Thermofax
Aviva: Funding the work as insurers
Tyseley Locomotive Works: Dismantling of 7802, which is to be followed by fitting and reassembly
The 'Two for 2020 Appeal' towards completing the repairs of both 7802 Bradley Manor & 7812 Erlestoke Manor remains open and details can be found here: https://www.erlestokemanorfund.co.uk/two-for-2020-appeal
From the Archives:
Looking back at the November 2015 Manor 50 event on the SVR to mark the 50th anniversary of the end of the Manor class working on the Cambrian network, Manors cross on the approach to Kidderminster. 7802 Bradley Manor is seen departing Kidderminster from the footplate of visiting 7820 Dinmore Manor [Photo: Jason Houlders]:
On the same weekend, 7812 Erlestoke Manor and 7802 Bradley Manor are seen receiving attention from engine cleaners at Bewdley MPD prior to working services [Photo: Alan Buttler]
Finally, moving forwards to 30th December 2017, 7812 is seen arriving at Bewdley from the north during its final few days in traffic prior to withdrawal for 10 yearly overhaul. EMF Treasurer and Trustee Tim Hargest on signalling duties awaits to collect the single line token from the crew [Photo: Matt Hyatt]: