July 2018 Update
Overhaul and Maintenance Round-up
The overhaul of 7812 Erlestoke Manor has progressed on a number of fronts, with a busy month at Tyseley Locomotive Works in July:
The eccentric straps are now machined and ready for refitting
The crossheads have been removed and remetalling started
New axlebox crown brasses have been machined and white metalled prior to being pressed into the axleboxes and boring to axle size
The locomotive driving and coupled wheels have been removed
Motion components are being prepared for Non Destructive Testing
There has been much painting of small components
The boiler cladding is currently away for blast cleaning
Finally boiler work is continuing with removal of expansion bracket studs, cutting out of copper doorplate laps sections in the fire area and major progress towards replacement of copper stays in the breaking zone.
On July 4th Bill Burnett and Philip Hammond can be seen splitting 7812's crossheads from piston rods to allow the cross heads to go for white metalling (Des Ainsworth):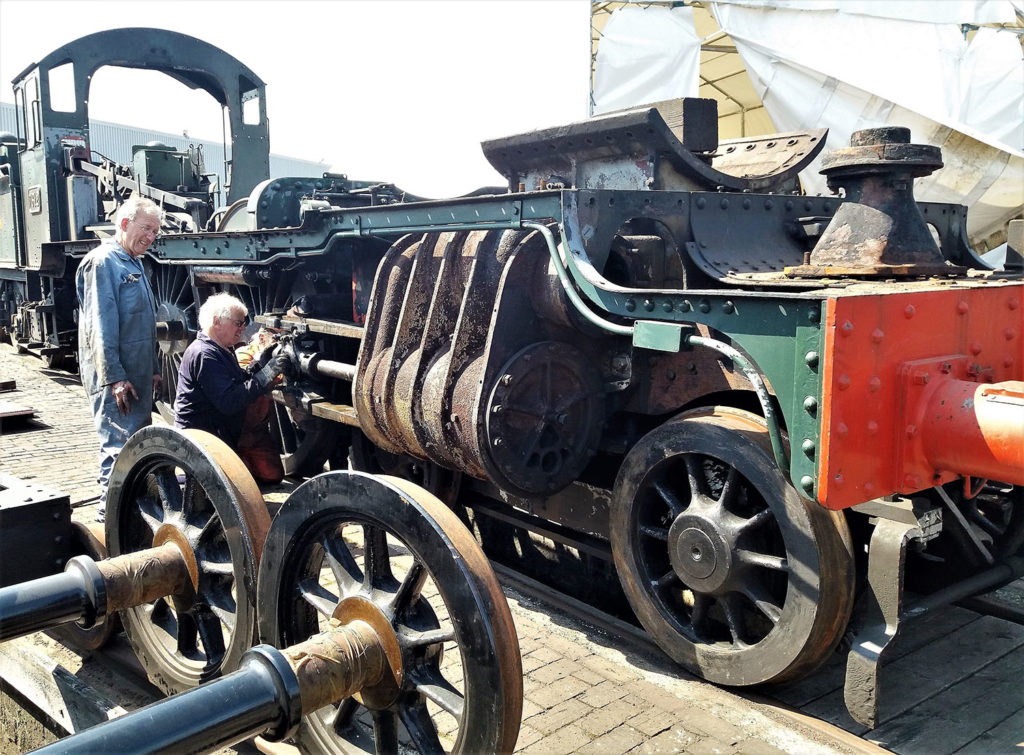 Remetalled coupling & connecting rod brasses (Terry Jenkins):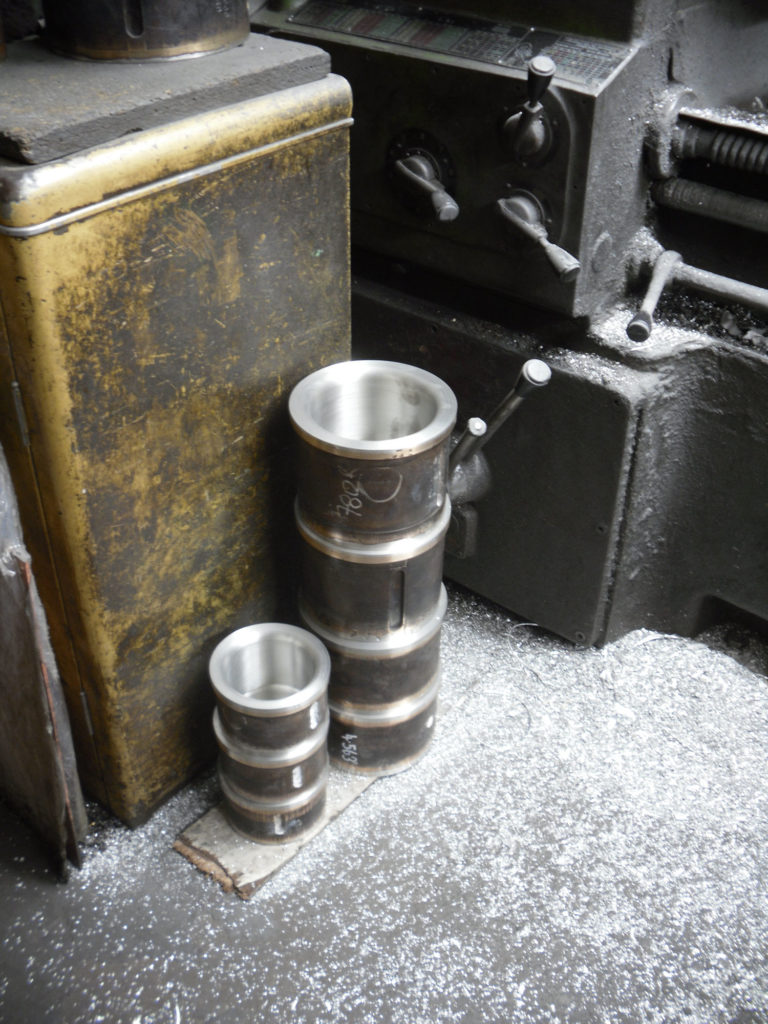 New driving and coupled springs, ready and waiting locomotive reassembly (Paul Fathers):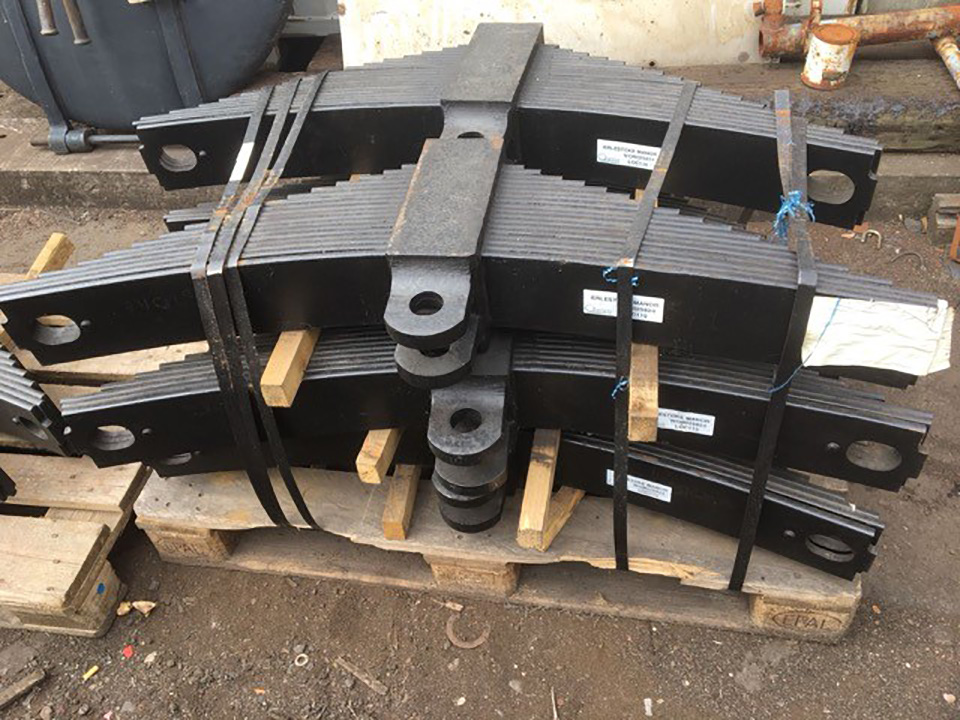 Later in the month 7812 is seen with the driving and coupled wheel sets now removed (Ian Whitlam):
By Saturday 28th July, the bogie was also removed:
Dave Kilner seen removing thick oil deposits from the bogie on before it goes for steam cleaning next month (Des Ainsworth):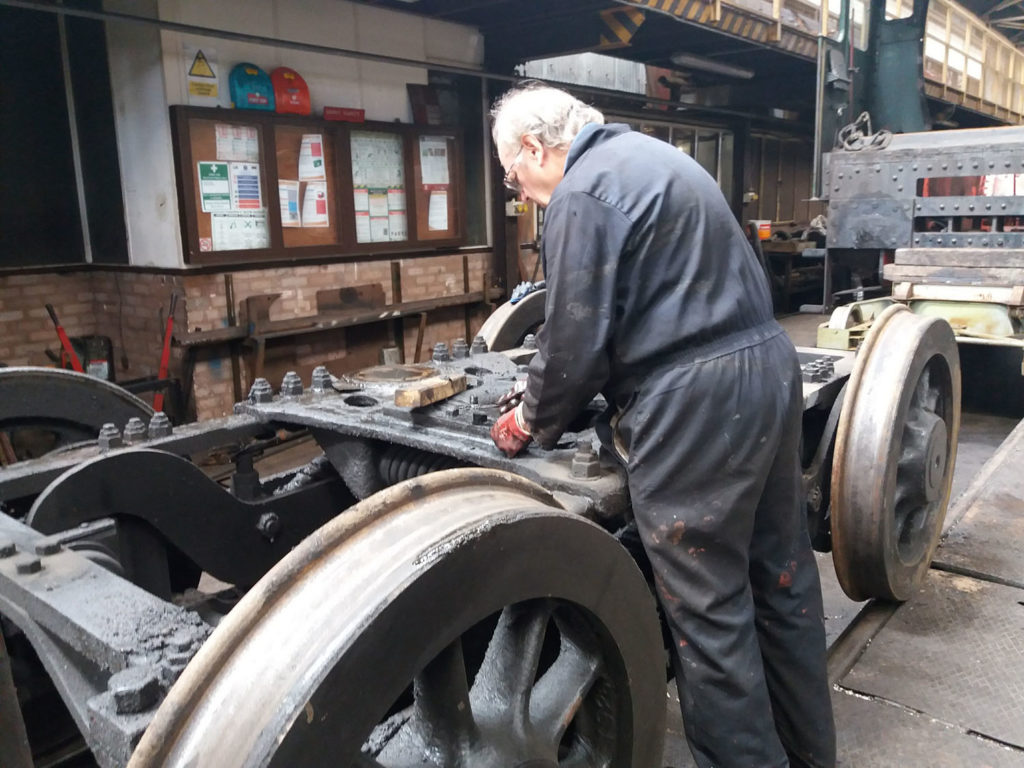 Also on 28th July: The axle boxes were removed and attached is a photo of some of the Saturday Team – involved with this exercise – Paul Spence, Jimmy Norris and Ricky Sault (Des Ainsworth):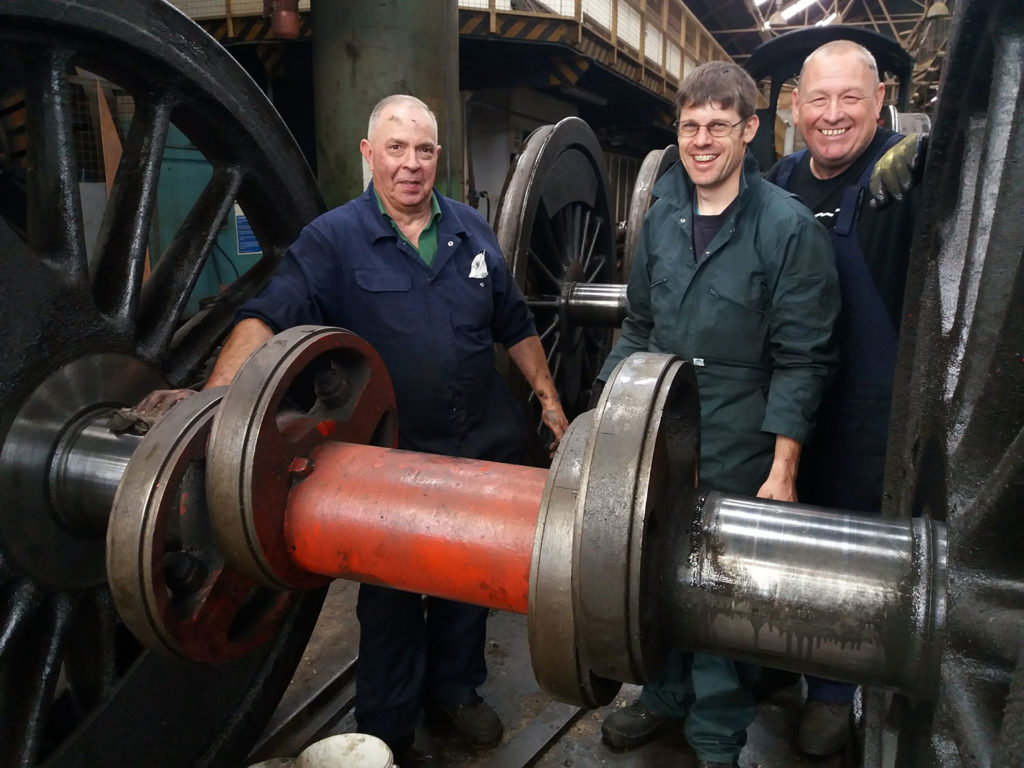 The newly removed axleboxes (Ian Whitlam):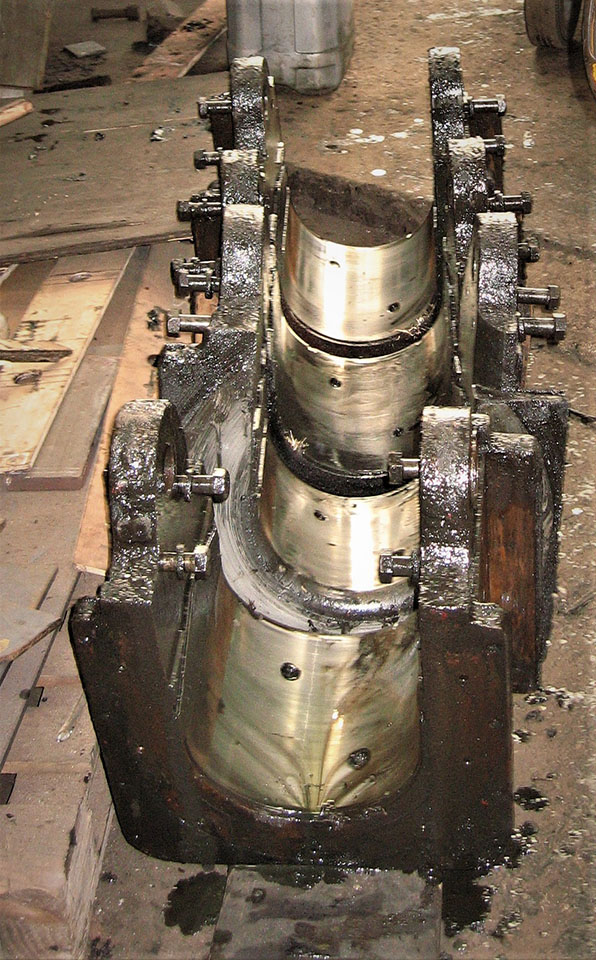 Meanwhile for 3,500 gallon tender T2329, a new rolled tube for vacuum reservoir has been delivered, and the new brake cylinder casting is currently being machined. There are detailed discussions in progress regarding the new tender tank design which may be procured along with similar for other groups.
Tender T2792 (4,000 gallon, stored at Bridgnorth) is awaiting return of its centre wheelset which is being fitted with a replacement axle by SDR Engineering, Buckfastleigh.
2018 Events:
LET'S CELEBRATE BRADLEY'S 80th BIRTHDAY on TUESDAY 18 SEPTEMBER 2018
Please join us for this year's Members' Day
A full day behind 7802 for only £15, with a couple of full return trips or a single trip with an extended stay in Bridgnorth or at an intermediate station.
Enjoy a free prosecco and birthday cake at Kidderminster at 1400, as well as on-train quiz, standard raffle and special birthday raffle.
Come along and share the experience with your fellow EMF members and volunteers. Partners and friends more than welcome.
To book or for more information please contact Peter Evans:
Home: 01527 861236
Mobile: 07808 763886
Email: peterevans3105@outlook.com
Address: Iona, Chequers Lane, Wychbold, Droitwich Spa, Worcs WR9 7PH
Or visit www.erlstokemanorfund.co.uk
18 Sept 2018 – MEMBERS DAY Flyer
EMF Sales Coach, Bewdley Station:
As ever, the Fund's Sales Coach is a vital source of income at Bewdley. Selling model railways, books and memorabilia, David Adams and team are always on the lookout for donations. Just take at this beautiful engine and coach, on sale for a great price!
Normally open at weekends, why not pop in to pick up a bargain, or to drop off some previously loved items looking for a new home – at the same time knowing you're helping a keep Bradley and Erlestoke Manor in service now and for the future.
Operations:
Finally, but by no means least, 7802 Bradley Manor continues in regular SVR service with tender T2334. Many will be aware that due to the high fire risk and tinder dry conditions, the SVR suspended all steam operations for a period during July, prior to a phased re-introduction of selected steam locomotives based upon the likelihood of locomotives to drop hot coals or emit sparks.
Due to the design of the ashpan fitted to 7802 at its last overhaul, its ashpan can be operated in a completely enclosed arrangement if run with the dampers shut, which almost eliminates any risk of drop hot coals. Therefore 7802 was among the first steam locomotive's to be brought back into service, and continues to form part of the backbone of the SVR steam operations (much as prior to the suspension of steam operations).
On the day stream services resumed, 7802 passes through Eardington Station on 19th July, seen from the 'Shark' brakevan (John Oates, photo taken with permission):
7802 passing through tinder dry fields on Eardington Bank on 25th July (John Oates):