February 2021 Update
Welcome to our February news round up and we hope that all our supporters are remaining safe and well during this current lockdown period. To keep spirits up, this month we have further positive news with regards to 7802 Bradley Manor!
7802 Bradley Manor Repair
The replacement cylinders and valve liners have now arrived at Tyseley Locomotive Works, have been unwrapped and examined, and are a marvellous site to behold!
Here are the new cylinder blocks and valve liners (still wrapped) freshly delivered at Tyseley, along with original cylinder and valve covers in early February [All Photos: Terry Jenkins]: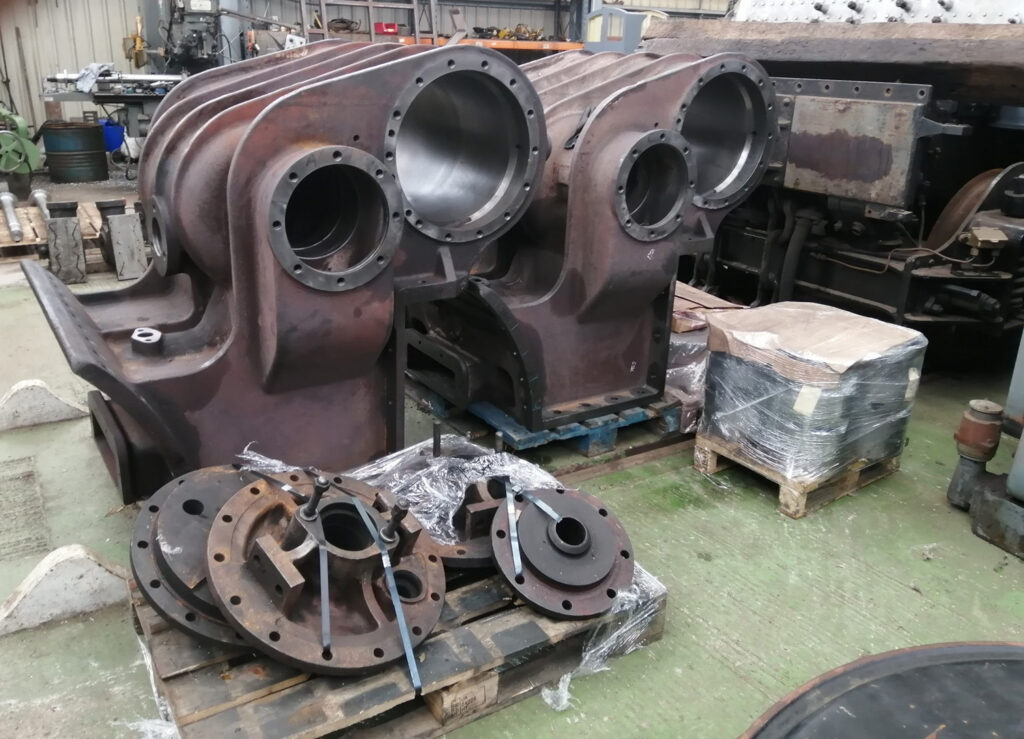 Next we see the machined driver's side hand cylinder block:
And here is the upper side of fireman's side hand cylinder block. The round profile to support the base of the smokebox can be seen, along with the rectangular cylinder exhaust opening which will be below the chimney blastpipe. The circular opening is where the steam pipe from the boiler will connect and feed high pressure steam to the valves: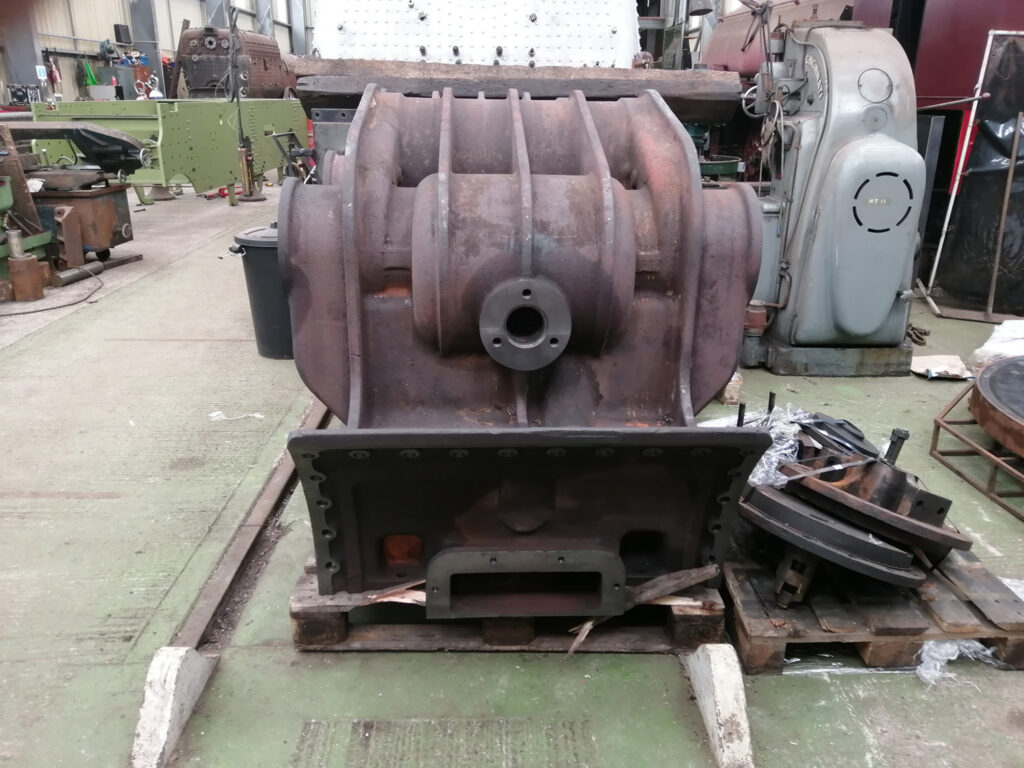 A new driver's side front cylinder cover casting is on order to replace the original one that was destroyed when the piston rod failed. A ambidextrous traditional pattern has been made for this, just in case of future need…..
The next stage will be to cryogenically shrink the valve liners in dry ice to allow their fitting in the valve bores. As they then expand whilst warming to atmospheric temperature they will become (very) tight in position.
The remaining tasks required leading to bolting the cylinder blocks together as a pair will then enable them to be hydraulically tested. In order to avoid a kit of parts everywhere, only once they have successfully passed their hydraulic test will we look to further dismantle 7802.
7812 Erlestoke Manor Overhaul Update
The remaining stays have now been fitted in boiler 6421 for 7812 making this ready for its hydraulic test. However, the weather is not playing ball at present, as this needs atmospheric temperatures to be above 7C, whereas it has been closer to -7C for much of the past couple of weeks!
New bolts and nuts have arrived for the slide bars which the piston crosshead run on, which we are replacing as a precaution as part of the wider overhaul of the locomotive.
From the Archives – The Gang of Four
This month Terry Jenkins has shared a story dating back to the very origins of the EMF almost 50 years ago, showing the EMF founding four at Barry during an inspection of the then remaining Manors available for sale in 1973. They are seen standing by none other than 7812 Erlestoke Manor.
The locomotives remaining available were 7802, 7812, 7820, 7821 and 7828, as 7819, 7822 and 7827 were already sold or reserved. At that stage the task was herculean: £4,000 needed to be raised in very short order to purchase loco and tender to avoid the forthcoming imposition of VAT.
They could never have imagined that not only would the EMF would save this locomotive, then 7802 Bradley Manor, and run them both successfully on BR/Network rail, but still be active nearly 50 years later and now looking ahead to bring Large Prairie tank 5164 into the Fund.
Known throughout the EMF as the 'Gang of Four', here we see from left to right our founding members [Photo: Bob Marrows:]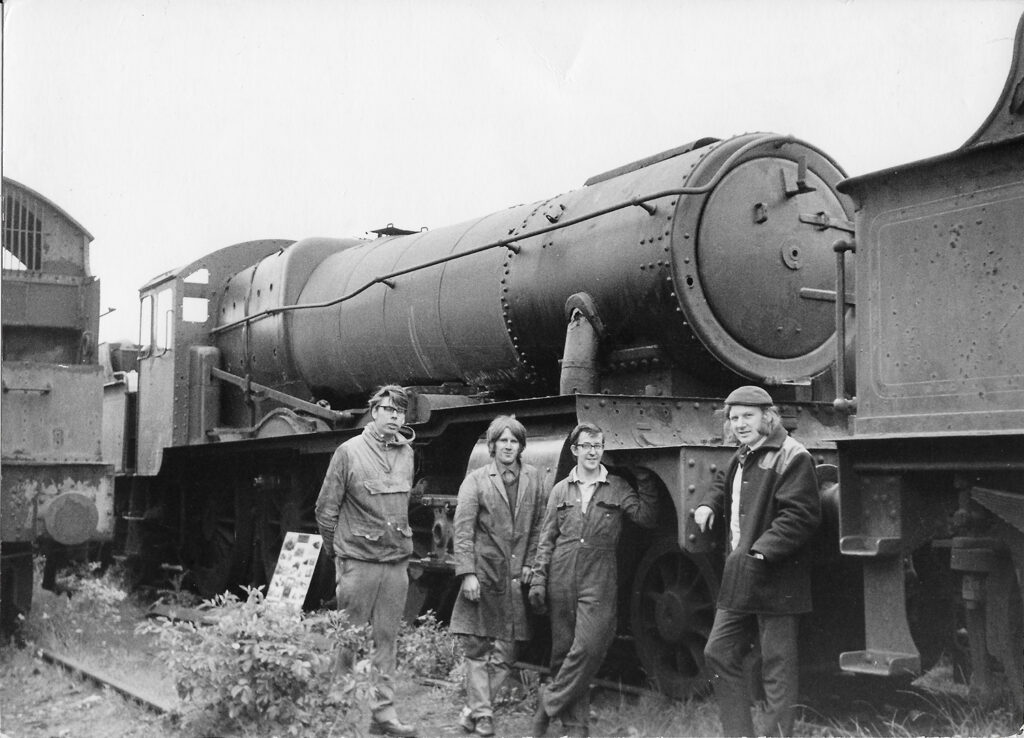 The late David Martin – who later joined the NYMR & became a leading light of the restoration of Standard 4MT 76084
EMF President John Hancock – whose original idea it was to save a Manor class locomotive
The late Bruce Chennell – first Treasurer of the EMF
Bob Marrows – first Secretary of the EMF and subsequently the architect of the SVR Kidderminster Station