EMF Special Charter Footplate Experience
A couple of months ago Anthony wrote a blog article for us about his day on one of the SVR's footplate experience days. Anthony has kindly written a follow up article describing his experience on one of the EMF's private special members charter trips. If you haven't read his previous article you can do so here. All pictures and words are Anthony's.
I tell you what, 2018 has been an incredible year. I remember turning 18 in my first job and an engineer there telling me that "life peaks at 21… and it's all downhill from there". Being 21 did turn out to be a pretty good year but being 30 has got to have been one of the best. It's all a matter of perspective, in terms of the day-to-day it's too easy to fixate on difficulties at work, early starts, and the same nightly routine only to wake up feeling as though you've only just closed your eyes; it's not been fun. Outside of that, the year started with a bang, for my 30th Birthday I was secretly booked onto an introductory footplate experience at Severn Valley Railway which saw me spent eight miles on the footplate, half driving and half firing, of our very own Erlestoke Manor, of which you may read more of here. I also was able to have a quick go in the Fifty Fund's 50049 Defiance within the Kidderminster station limits, a stag do at a British Touring Cars round (spending qualifying with the MG team in the pits), I got our own MGF back on the road in time for my wedding, got married in July, followed that up with a trip to New York, flew from Coventry to Silverstone and back at the controls of a Piper aircraft, and much more besides. So, fair to say it's been a pretty incredible year and I have been very lucky and need to remind myself of that more often. But there was one opportunity I had to miss which was fairly devastating.
During the summer, the EMF team had scheduled member taster footplate experiences for a short but special run between Kidderminster, Bewdley and return. My previous experience day started at Bewdley and ran to Bridgnorth and back but I was only on the footplate between Hampton Loade, Bridgnorth and back. The tunnel on that first section of line and passing the elephants at the zoo have to be amongst the most memorable features of the SVR line, and this would allow you to do so at the controls of our very own 78XX locos at a very reasonable price. I'd have retailed body parts for this opportunity, not expecting to get much for them clearly, but this time for me, whilst there was no hesitation with the chequebook, I needed to check the diary.
Oops. The date coincided with reading of the wedding banns, a meeting with the reverend and the reception venue. I looked at whether I could do the first or the last shift of the day, but I live in Solihull, the wedding venue was Lake Vyrnwy in Wales, and although SVR is sort of on the way (the River Vyrnwy feeds into the Severn), I couldn't make it work, and worse still, not enough people showed interest in the summer date to justify a second day's session in September. I was devastated, and also really surprised that more people weren't clambering to get behind the controls. Keeping in touch with Terry Jenkins about matters and the creation of my previous article led to something even better. A space had come up on a private charter session for four EMF members on 30th September, and this time this would be the entire length of the SVR, Kidderminster and return, all of it on the footplate, half driving, half firing and Terry knowing how mortified I was to miss out on the previous run very kindly asked if I was interested. What an honour. Now, if you had told the five-year-old me that standing at Kidderminster Station whilst staring at a few Gresley Pacifics a quarter of a century ago that one day I'd get to drive the full length of this line, I'd like to say I would have been overcome with excitement… except I would probably have taken it for granted, assuming that when I grew up, it would be my main job in between racing formula one cars and digging up dinosaurs, naturally. Hopefully from all this pre-ambling waffle, you get the feeling of just how much this day meant to me.
So let's get onto the main story, driving 7812 on Saturday 30th September. The choice of loco was never guaranteed, the EMF placed a request with the SVR loco department for one of our own, but as written about previously, anything can happen to shift the roster around and it must also be remembered that Erlestoke herself is rapidly approaching the end of her boiler ticket which was certified beyond expectation to 31st December last winter. She is already on restricted use to preserve her until then, more on that later. It was with great excitement however in the days before the event I saw that 7812 had been scheduled for an EMF Private Charter with six Great Western coaches, and that held until the weekend, except that on the day that had shrunk to five coaches, perhaps a good thing given the weather. Erlestoke looked a bit glossier than last time I had found myself on the footplate, and had been the recipient of a little attention for the final gala appearance a week prior in the form of a brush and pot of white paint for some Cambrian embellishments, and not long after my previous turn in February, 7812 had also received some of its late BR life add-ons for running under electrified section overhead lines in the form of a red-painted protective frame at the front of the tender and the ubiquitous 'live wires' warning stickers plastered around the loco and tender. I met up with the previous run when they drifted into Kidderminster at 1508, was welcomed right onto the footplate by driver Paul whereupon I donned the overalls, gloves and 'Peaky Blinder'-branded cap (without the sown-in blades before you ask). I was sharing this experience with Alan Gormley, also from our trust and probably best known for putting together the excellent new EMF website you are currently looking at, and we were joined by fireman Chris.
It's worth noting at this point that if anything that follows implies I know how to drive this loco or was ever really capable of making the journey, it is only the tuition of Paul and Chris that would make it seem that way (and on the other hand, those 'in the know' will doubtless find plenty of errors or omissions, sorry). These two were absolutely fantastic and knew these locos inside out. I have seen questions written to the likes of SVR before by prospective footplate experience participants, wondering if after a certain amount of experiences you can become a signed-off driver. The answer naturally is no, you can only attain that through years of experience and progressing through the volunteering ranks and by having the aptitude and experience to work your way up. Unfortunately, to expect otherwise is a bit like expecting that amassing a few Argos-sourced 'Supercar Experience' track days at a disused airfield would lead to displacing Valteri Bottas to partner Lewis Hamilton in next year's Mercedes, but please please don't ever let that discourage you from the experience. If this is what you would like to do, get down to your local heritage line and see what volunteering opportunities there are. If you are lucky enough to be able to sign-up, experience days are a great way to get a flavour and decide if this is for you, and if not, this is even more of a staggering opportunity to fulfil a lifelong dream. It's heartening to see that a lot of the firemen I have met have actually been people significantly younger than me who joined the junior club at SVR.
We were due to depart soon at 1530 so we stepped off the footplate, Alan and I used each other's back as a ledger to sign the legal disclaimers, waited for our families to clamber aboard the chartered train, and time to go just as the rain started to increase on what had been quite an overcast and gloomy afternoon. Having previously driven, it was suggested I took the first turn but in the interest of fairness Alan and I arranged to swap at half-distance, the county boundary, as it didn't seem right for Alan's entire driving experience to be facing backwards. So with that, brakes off, screw reverser set fully forwards and locked, and with the damp rails, gently open the regulator a few times to try and feel for the bite as Erlestoke starts to creep forwards and slight release to stop her snatching and wheel spinning on the wet rails as we'd seen the visiting SR School 'Repton' do the week prior in the dry. Fortunately, the former Great Western 4-6-0 design is somewhat less aggressive in nature! Then, with a spectacle glass coated in rain and Alan learning the firing ropes, we're away.
From this point, as the driver, there isn't too much to write about, Erlestoke accelerates nicely up to the posted speed limits, reverser is wound back to 45 and locked off again to allow the steam to work more efficiently and expansively, and one can never tire of pulling the whistle at every lineside 'SW', gliding over the bridges in full view of the public is also very special. At the same location on the return, passing over the roads, Chris pointed out that during the week, the loco was probably the fastest moving vehicle in Kidderminster. At least the traffic had something good to look at, then.
The first real landmark is the tunnel, always the exciting bit as a child. A whistle before we enter, regulator is closed off to the first stop, firebox doors are opened and we drift through the tunnel. I didn't ask but on reflection I suppose this is to reduce the sharp exhaust, minimising filling the carriages and cab alike with smoky steam, and perhaps deafening ourselves as much as it's about anticipating hazards and the draughting (there's a word spellcheck dislikes…) arrangement of the fire. Going forwards, there's not a great deal to see so it's not quite as exciting as you may think and you're already trying to spot the exit and thinking about reapplying the power. I mention the regulator at the stop rather than fully closed; the lever is controlled by a sickle shaped track rather than it being a continuous arc. The reason for this is the steam drives the lubricating oil, and if fully closed as it is when stationary, there's no flow to various moving points of the loco which you need when you are still rolling. The stop is the point where you maintain that lubrication but you're not driving the cylinders, it is momentum keeping the loco moving. We next pass the famous Safari Park, making children's days by waving back to them. As we approach Bewdley, we see the distance signal at danger warning us the next signal is likely to be red, which sure enough it is. We actually stop earlier than is usual, before the platform and our own EMF shop. Nobody likes doing that, not least the signalmen, but the rationale is that we're at a well-used station with a chartered train that is not open to the public, with only one guard to police it. Best to stay out of the way as we have a reasonable wait for Taw Valley to arrive with the public service. It's oddly gloomy as well, I'm not sure I've ever seen Bewdley quite so ghostly but its magic is still intact. With the volunteer army working hard nearby we have to be careful they are clear before we leave but, following the rules, they let us know whenever they're near, and once again we're away, this time over the characteristic viaduct.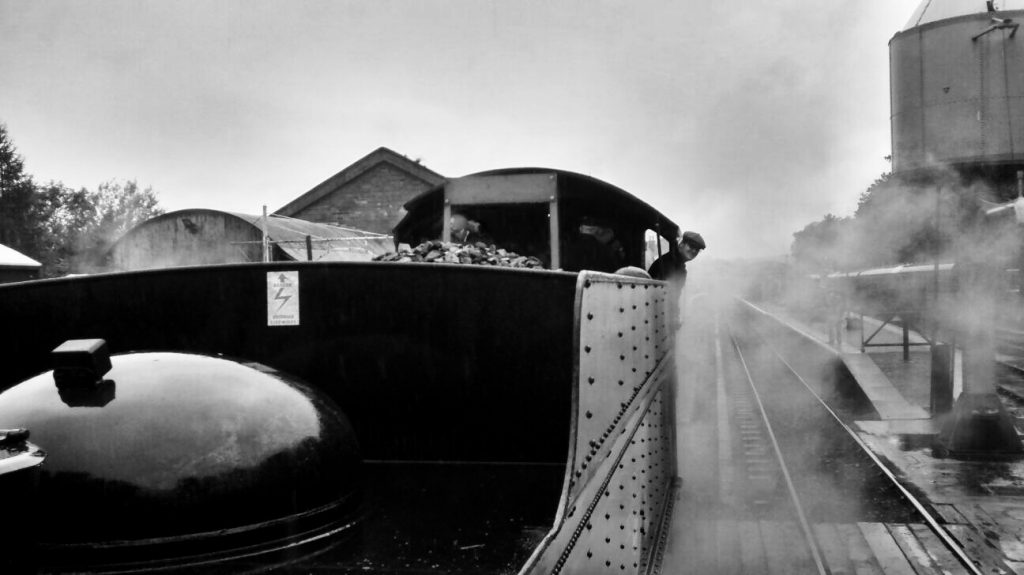 As we head towards Arley, I am absorbed by the whole experience, and this time the main thing I take from this section is more technical use of the brakes and regulator. My previous experience was Hampton Loade to Bridgnorth, that day braking was quite linear and ultimately resulted in stopping outside Bridgnorth waiting for a clear signal, at which point the crew have to take over. This time there's a bit more science to it. Intuitively, you think of the brake application lever as being the brake like the brake lever on a cycle or a car, and the ejector is somehow recharging the vacuum which you almost imagine is some kind of reserve, but this isn't right. With vacuum brakes, they are nominally fully applied; the vacuum is generated to release the brakes. The ejector charges this vacuum and is closed once 25 is reached on the gauge. The brake lever allows air into the system (hence the 'whoosh') and reduces the amount of vacuum, increasing pressure on the brake shoes which by nature want to spring back to fully-on, but closing that lever doesn't release the brakes as you may intuitively think, only recharging the vacuum does. To steady the train, especially running downhill, through bends with a little speed and relatively light carriages behind, you might think about using the brakes, only very lightly, to stabilise the train, add a little tension, as those carriages won't want to shed speed as fast as the loco, their momentum will want to carry on tangentially to a curve. Also, because of the same conservation of angular momentum principles, the train needs more energy to maintain a constant speed going forwards and left or right than it does to go forwards only. In addition, thinking about the design of a steam loco, there's no steering rack on those three driving axles, they're not exactly designed for three-point-turns in Tesco car parks, this is why your old Triang Princess and Jinty had flangeless centre driving wheels. The friction mounts up as those six large wheels are being asked to turn around a bend with the outside taking a longer route that the inside set but all having to rotate at an identical value. As such you have to think about supplying that additional energy from the regulator. It was something I also had to think more about at low speed at the controls of Defiance, despite only doing 5mph at the time, as you creep towards the platform you still needed to increase the power lever as you travelled over the bend, snaking into the platform, in order to maintain that speed. Fortunately the Class 50 had a speedometer. I have to say though, I still have no concept of line speed, and despite driving various road vehicles in my years, 20mph could be 60 for all I know (slight exaggeration) when standing on that footplate. The real crew instinctively know the speed the loco is doing from experience alone and it is Paul really in charge of the pace. If you think that sounds a bit unscientific, you have to remember the crews manage to get these trains to and from the station more or less on time on the SVR and did so out in the real world long before speedometers were available on some of the last steam locomotives, delays were usually out of their hands, so they definitely have some superhuman ability.
We arrive at Arley and it's a long stop. Arley is well renowned for its beauty (even as sodden as it is today) and is a favourite picnic spot, so I won't say much more than that about the location. The signalman lets us know we will be waiting a while for the next train as it has only just left Hampton Loade; Highley still in between us. I'm introduced to a new (to me) lever this time which is for the cylinder draincocks. If you don't know what these are, you have probably seen part of them in the form of the copper pipes that hang visibly under the external cylinders on locos so fitted. Their purpose is to allow the steam condensate to be released from the cylinders as water is uncompressible and will quickly lead to cylinder and valve damage if left in the chamber with the best part of 225psi of superheated steam pushing the piston into it. After a while the handsomely-painted maroon hydraulic 'Western' rolled through and it was time to stomp the draincock lever to release, the firemen release the handbrake, reverser all the way forwards again, and time to go. I was instructed that although where we were stood is fairly level, it is getting wetter and outside the station the gradient will start to rise against us so I needed to think carefully about finding the balance between the loco wanting to stay exactly where she was, carrying on the little nap, and throwing a tantrum with spinning wheels and a lot of noise. But, in a fairly eventless way, we were away again thanks to the exemplary coaching of Paul.
As we approach the county boundary between Worcester and Shropshire, widely acknowledged as the half-way point, we entered a heavily speed-restricted stretch which, a decade on from SVR's annus horribilis where major landslips were suffered and put the short term future of the railway into major trouble, had started to suffer again, though a swift reaction and some remedial works has things under control. I understand this very loco with a fresh boiler that is now at the end of its stint reopened the line back then. Paul explained part of the issue is that the make-up of the earth below is of two layers of clay, which being wet and slimy are always going to be prone to moving; they're self-lubricating. Unfortunately this is always going to be the case in an area where a river has been running for several thousand years and we are reminded as humans of our temporary nature. Time to swap over to firing duties now.
For the firing stretches I have a little less comprehensive memory about where I was, what was going on, what my name was, which at my current novice level would make me useless as a real fireman who shares equal responsibility in calling signals, but that's probably because it's the more technical and demanding role in a lot of ways I think. I had it very easy last time, I built a nice fire at Bridgnorth whilst totally still and just needed a couple of scoops before we got to Hampton Loade. I didn't have to do anything really with the injector other than at the stations. Beautiful. This time there was a lot more to do. The direction on building a fire for the Manor was to have a wall of coal the width of the rear face, and even coverage over the rest of the firebox, imagining the grate area as a series of rows (Chris' terminology) as I topped up the fire. I still didn't have to think about the draughting, nor too much about the difference between the firebox flap and doors, though Chris did explain that the flap left a shovel height of gap at the top. When stationary, shovelling is very easy, you can get a good throw of the coal to exactly where you want it within the large belpaire 'box, and more importantly, you can very clearly see where the 'holes' in the fire are, directing you to where more fuel is needed, maintaining the boiler pressure. All this goes out the window when you're rattling along, the tender let's not forget moves on the drawbar with a degree of independence longitudinally and more-so laterally as it turns through the curves on its own chassis. You grab a scoop and find your feet are split between the two different entities, and then by the time you come to shovel what you've collected into the fire, you've got to get an accurate throw through the firebox hole which has seemingly quartered in size whilst the shovel has somehow grown a few feet. By now it feels a bit like Luke Skywalker using the force to fire those torpedoes into the Death Star's vent. In this analogy I am very clearly the impatient Padawan here, and Chris the Jedi Master, because I manage to hit the side of the opening more than once, and getting what coal I haven't spilt over the footplate ,under both driver's feet, to where I actually meant it to go proved to be another new challenge. The next part of the challenge also is something I didn't experience before. When stationary or cruising along, the fire looks quite tame, you can see the glowing individual coals in fact. When the loco is under power you're confronted with what looks like a nuclear explosion with every cylinder stroke, pulsing between yellow and near-white glow, I can't see a thing in that fire so when asked where the holes are, which were present, not a clue I'm afraid! 'Loco-whisperer' Chris knows there are holes but somehow using his unnatural abilities, knows exactly what is needed and where, and has no trouble whatsoever bulls-eying those flat spots. At the same time he's thinking about where the regulator demands are going to be, what the current water level of the boiler is, whether the blower is set correctly, how exactly is best to operate the two firebox closures, and he's still spotting the signals, keeping an eye out for hazards and helping Paul and Alan keep on top of the driving. Wow.
It's a lot to take in, which is why I didn't pay that much attention to whether it was Highley or Hampton Loade that we encountered Bradley Manor, I honestly can't remember. I vividly recall drifting into Highley and looking over towards the engine house, waving at the onlookers, but it's otherwise a bit of a blur. It's also really hot on this side. I had planned to wear just a T-shirt under my overalls. I'd gotten away with that in February, it was cold running tender first but with a lot of Jurassic timber burning behind me, it was manageable, but today the weather had become rather moist and with it the temperature dropped, so I had treated myself to a fleece at Kidderminster's shop that was left undone beneath the boiler suit. Loco forwards and standing in front of the open fire, it's not the physical exertion (being a heritage line with a 25mph limit), unfit as I may be, it's the energy that the belpaire radiates that has you sweating under your flat cap or wax top. I find that compared to my previous experience we spend a lot more time with the injector open, the tap being on the tender and injector handle on the backhead, and Chris points out that it's not just a case of a quick blast, the injector isn't that fast. As we get to Eardington Bank, Chris pulls down the fireman's seat on the cabside and tells me to take a pew, just listen to the loco and enjoy. It's a welcome moment to stick my head out and enjoy the cool, water-logged air. I haven't mentioned it sooner but it goes without saying that Alan was doing a magnificent job at the controls and anybody onboard would be utterly unable to determine that at the helm is a first-timer.
We arrive at the northern terminus in good time but have to wait a little while to run around for water and coaling as there's still a train at Platform 1. I had to ask what was pulling it as when we arrived I was too busy looking towards the shed. Incidentally it was the Ivatt 4MT 'Flying Pig'. We run down to the real end of the line, something not usually seen by the public as it's out of view, and whilst Bridgnorth is a terminus like Kidderminster, it is only in preservation that this is the case, so where Kidderminster was a later new build with buffers entombed in the all-around platform, Bridgnorth still has the layout of a through station. To our right hand side it's great to see the new-build Standard 3MT tank engine, a few weeks ago its smokebox was on the floor nearby looking a bit like the victim of the French Revolution, but for the gala it had been placed back on and even with the boiler next door and tanks being fabricated elsewhere, it looked like a loco. When the Ivatt leaves with a now southbound train, we made our way around, but not before Paul and Chris step off and a relief crew take over for the duration of our stop over. The volunteer crew on the ground provide fine service, we take on water and two buckets of coal from the depot JCB, and then it's time to rejoin our five carriages, this time at the other end of course and tender-first. We certainly won't need to damp down the coal load this time. In dry weather you use the cab mounted hose to wet the coal, especially when running tender first, as this keeps coal dust under submission rather than lodging itself in your eyes and lungs, but in today's increasing rain, it's not something we need to be concerned with. We're scheduled for quite a wait now, before we can depart Taw Valley will need to arrive, so although we could need to move at any time, it's a reasonable wait in the end, but it gives us a good time to have a chat, a few quick photos with the family, and a look around the boilers and castings awaiting future attention on the far side of the rails where the public can't usually get to. Paul has some great stories (he ought to write a book!), he's been around since the very start being a local boy and with friends heavily involved; it's just something he ended up doing. Doing very well, I'd say, for someone who may not have been natively interested in steam railways, he knows his stuff and is as passionate about the locos and the ongoing running of the SVR as anybody I've ever met. Chris on the other hand followed the junior club route already mentioned, and rather like me, had a childhood interest plenty fuelled by Rev W Awdry's creation.
As we had decided to divide and conquer the line, it was my turn at the regulator again from here to the county boundary, and the first time I'd run backwards whilst actually driving. If I feel one bit of guilt, it's that I have now been able to drive away from the two main stations on the line, though I suppose Alan won't mind, after all; he's also had the honour of arriving at each at the controls. Remembering back to Flying Scotsman struggling to escape Bridgnorth of the BBC documentary here, albeit far more coaches and heavily loaded, today it is wet and the skies are getting ever darker as the late afternoon light is already fading and I wonder if I will have any issues, but the manor, the last loco you see on that same documentary other than Scotsman herself, behaves impeccably and we escape without drama or fuss using the same principles of letting 7812 find her feet and then just backing off a little to prevent running before walking and a load of wheel slip. I had wondered how uncomfortable it would be running backward, the answer: not that big a deal. As before, Erlestoke's 3500gal tender offers no significant weather protection and the cab becomes a huge scoop rolling up into a ball whatever weather you're facing like dollops of Henley-in-Arden ice cream. It's a bit damp but I really don't mind. Controversially perhaps, I have slightly mixed feelings about Bradley Manor taking a smaller tender as it's a handsome engine as it stands and is instantly recognisable, there certainly were some Manor's running 4000gal tenders at times, please, no burning brown paper bags on my door step for saying so. But, this is where you really realise the prototype-correct 3500 is absolutely, 100%, the right choice. The visibility is rather good with this tender but with Bradley it's heavily compromised, driver Paul confirms, this being a 16 mile heritage line and our locos no longer running on the mainline, the extra capacity simply isn't needed, every driver advantage is absolutely essential where safety may be concerned and there are plenty of opportunities for the visiting or road-using public to do something silly. And they will. The slightly increased weather protection might be missed, though!
It's with a sense of loss as I blow the whistle one last time and crawl into the section of active earthworks. This is the last time I will have any control over Erlestoke, my grubby gloves don't want to prise themselves away. This is it, at the end of the year 7812's will end her decade of celebrated performance as a Severn Valley flagship, so I won't get another shot at this. Would Alan really mind forgoing the rest of the journey? Moving back towards the tougher side of the cab, Alan and I shake hands half way. I've still got half journey to go but at this point I have unlocked the life time achievement award, won a world championship, defeated SPECTRE, I have now driven the entire length of the SVR with a steam tender engine.
I slow down with the shovelling this time and try and be more accurate. Fortunately as we're not travelling up the Shap, the demands are for quality of coal delivery, not quantity, and again we're on an off the injector throughout. Chris favours using the firebox flap over the doors when running along but I have to watch Alan's use of the regulator and shut in time. One thing I get to notice this time is how much you don't usually see, certainly when you're in the carriages and barely more when you're travelling loco first with a boiler and roof ahead and overhead. I often see beautiful photos of steam locos on the SVR passing over the Severn, roads, or past the reservoir but there's rather a lot you cannot take in from on-board, the bridges and utilities above the line for example. Paul and Chris apologise for the weather and suggest we may have been better off fitting the weather cover, but I really don't mind, the fleece has paid off and I'm just right, and there's no place I'd rather be. It's a perfect day.
As we rolled into Arley I managed to take the time to take a short video and photo after checking with Chris. Last time I remarked that running tender first was a bit like the bow of a ship, if not quite delusions of an impossibly young Di Caprio and Winslet hanging over the end. This time it's a little less so, the distribution of the coal added at Bridgnorth has left a fossilised mound a bit closer to the cab, and 7812 replicating it's 'under the lines' guise means there is also the red frame at the near end but it's still an interesting experience, especially as the pace reaches maximum, it sounds different to my ears with the tender being pushed rather than pulled and under strain of the carriages behind, though some of this might also be that the loco itself is behind my ears now.
Somewhere between Arley and Bewdley there's a sudden but recognisable increase in noise, and long plumes erupt from the boiler near the firebox, the safety valve has tripped meaning we've reached the 225PSI cap and now we need to release the excess, not long after we've been injecting water. I remember this also from the Scotsman footplate documentary and that it was a slight source of embarrassment then for fireman Ryan (who led my previous firing experience) as he felt he had overestimated what the driver needed by his own narration. As I was firing at the time I asked Chris what I had done wrong but he explained we haven't really, it's the first time Erlestoke has really shown me her current boiler ticket age aside from an well-earned patina, Chris points out what's happening to the water level on the gauge when Alan is adjusting the regulator, it's rising and falling but there should be no appreciable delta, making it too easy to work to the wrong level, but fortunately this is exactly what the beautifully brass-bonneted safety valve is for and it still does its job to perfection. Slight foibles like this are why 7812 is in her Indian summer, demob-happy, wind-down phase.
Bewdley passes in a bit of a memory blur, again, so it doesn't seem long before we're overlooking the safari park, waving at the animal-admiring visitors under the drizzling sky, and then we come to the tunnel. Now, I made a point of saying running loco first and driving it wasn't quite as dramatic as you'd think as you entered the portal, how you are already thinking about the exit and trying to discern the daylight in the distance, but as a fireman and running tender first it turns out I am in for a treat. As I did, Alan releases the regulator to the first stop position, and I open the firebox, Chris does the clever bits. I've never been through a tunnel where a steam loco has been behind me rather than in front, so again, the tender in the lead sounds different, only more so now. The already rapidly diminishing autumnal-afternoon light vanishes to nothing, and the amber glow of the fire takes over, and gently picks out not only the rain-glossed coal in front on the tender but also every brick edge in the tunnel arch as we pass under. The smell is different, too. I get a waft of real coal, I can pick out the oil too, but also that slightly underground smell, and the chilled draught reminds me of the subterranean canal system at the Blackcountry Living Museum. This for me, despite the 1939-built Collett under my feet, is a pure, unspoilt Victorian experience and on a day dominated by moody grey skies, rain and mist, and coloured by well-nourished greenery, this is a totally different experience painted in black, brass and orange. I look over at Alan and Paul and see both with their fingers in their ears, the loco behind us is cruising so it's more about the air that's being forced straight into the air-brake of a cab and the high frequency noise emitted by the tender wheels running along those thin metal strips. I wish I had photographed or recorded it but then I wouldn't have experienced it quite so vividly, chances are a mobile phone camera would really struggle to do it any justice.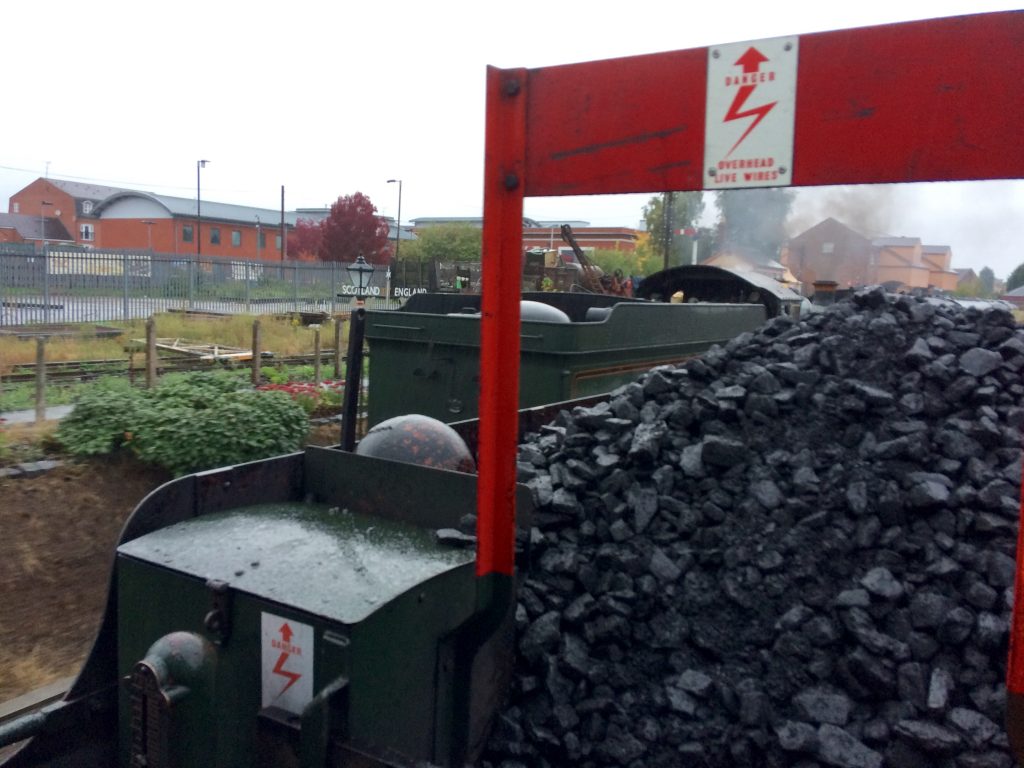 Out the other side and we're on that very final stretch. The rain is currently the heaviest it will be all day and it starts to feel more akin to sleet as it hits my face like little spears of ice, but still I can't retreat into the cab, it's too special and I'm warm enough. As we near the end of the journey ready to glide into Kidderminster, the work is done, Chris and Paul are already discussing the next movements, the coaches will need returning to the shed, but I'm generally soaking (perhaps in more than one sense) my last moments on the footplate in. We pass the swallow-liveried intercity coaches on our left, see the main line appear to our right, signalman waves from his box and we have the road alongside the already north-facing Bradley Manor with the evening dining special. To push the coaches back to bed, Erlestoke will shunt from the back so there's no need for running around this time.
And that was it. I was hoping for a little more drama and photographs as I stepped off, but my family appeared to be walking the wrong way down the platform. Perhaps this is getting a bit too normal for them now? I on the other hand take the time to watch 7812 shunt the carriage set away, there's a sense of finality watching this as it starts to get dark. I was really worried both on the day and when I started writing that, having already put together an article on my 8 mile stint, that this would be a rerun of that multiplied by four. Instead I look back and fear instead I have written far too much, so let me conclude here, and hopefully edit out some waffle before you read this; we should be so proud of our locos and the SVR. I am a newcomer so I have nothing but respect and admiration (and just a little bit of envy that could only be quenched with a time machine) for our EMF forebears who saved these locos from Barry. Only a week before a long term visitor remarked on just how nice it was to see 'Mothball Manor' (the semi-affectionate name for Bradley when resting at Bewdley for many years) so resplendent. This is your legacy, your hard work and / or your kindness and generosity. What I would advise is make the most of these opportunities when they arise. Where else could you turn up, stick a cap on and be hoisted into the cab of a fire-breathing pressure vessel and be handed the controls of a vintage machine of such high value? It really is a wonder that in this day and age the 'it's health-and-safety, sir' brigade, or libellous legal teams, we're still allowed this. It was quite depressing to realise the team had difficulty filling the taster slots earlier in the year, being such incredible value, and no matter how exciting what you may have already done before, surely any excuse to get behind the controls of the Manors, our Manors, is worth taking? So please, I absolutely implore you, take these rare opportunities, make the most of them, and get stuck in.
I am sure I speak for the rest of the members when I offer our thanks for Severn Valley Railway and our own Terry Jenkins, they have also made this an incredible experience and given my family another unforgettable day. It's easy to focus on Erlestoke but it's the real crew who were the stars of the day, their exceptional tuition, skills and experience leave me in awe, and they made it inclusive, friendly and fun for us, putting us at ease, so Paul and Chris, thank you once more. I didn't get to meet our on-board guard, or catch his name, so if ever you read this, thank you too for giving up your time to look after us and our passengers.