Bradley Manor on Royal Train Again!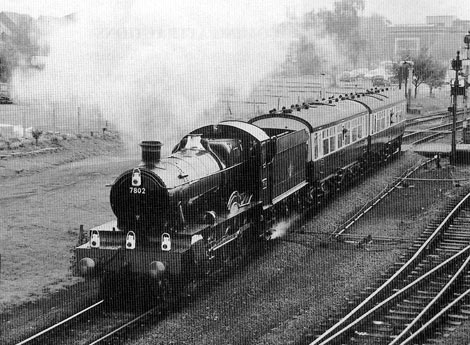 7802 leaves Kidderminster for Highley with Royal Train
For the second time in one year, 7802 Bradley Manor headed a Royal Train, this time at home on the Severn Valley Railway. On 18th October, following the opening of the new Kidderminster station canopy and Refreshment Room developments, our locomotive, highly polished with burnished buffers, hauled a two coach train, both "obbo" saloons, carrying HRH The Duke of Gloucester to view the new Engine House under construction at Highley. As reported in the last newsletter, 7802 had earlier in the year hauled the Royal train carrying HRH The Princess Royal on the Dean Forest's reopening train to Parkend.
The Cider Express – 7802 Mainline trip Hereford to Minehead
Maybe this is one of your last chances to go mainline behind Bradley Manor! Past-Time Rail have arranged a special mainline trip on Saturday 10th March 2007 to cover the move of Past-Time's proprietor Andy Staite's favourite engine to the West Somerset Railway's spring gala. The Cider Express will start at Birmingham New St (06.58) picking up at Stourbridge Junction (07.26), Kidderminster (07.38), Worcester Foregate St (08.00), Ledbury (08.26), Hereford (09.12). Here 7802 takes over for the run via the Llanvihangel bank, Severn Tunnel and Bristol Temple Meads (12.11) arriving Minehead about 15.05 for a one and three quarter hour stay. Bradley Manor will haul the train back along the WSR, yielding to diesel power at Bishop's Lydeard for the rest of the journey back to Birmingham (22.54) stopping as on the outward leg.
Did You Know?
During the war and following nationalisation in 1948, all the Manors carried black livery (except 7804 Baydon Manor which in 1948 Swindon turned out in unlined green for piloting the Cornish Riviera over the Devon banks). It wasn't until July 1956 that lined BR green started to be applied to the class. 7819 Hinton Manor was the last to receive its green livery in early 1960, having been in black for most of its 21 years existence up to then. It is appropriate therefore for 7819 (now out of use on SVR) in preservation to continue in black, also with red backed name and number plates as several Manors carried in BR days.
The 4000 gallon tender no 1560 originally provided for the first 1903 built Churchward 4-6-0 no 2998 Ernest Cunard (earlier named Vanguard) ran successively behind Manors 7804, then 7822 and finally 7810 during the years 1960-64 albeit somewhat rebuilt. A photograph shows 7808 at Cardiff in August 1965 also paired with a 4000 gallon tender.
Rolling Stock Update 7802 Bradley Manor
This engine has continued in regular service throughout most of the last year except for two short periods. The first was during August when the front bogie, which had tyres worn too thin for further mainline use, was expediently swapped with that already refurbished on 7812. This involved also transferring the TPWS and AWS mainline signal sensing aerials including their mounting framework from one bogie to the other. Fortunately bolt holes on both bogies were in identical positions to allow this to be done very quickly.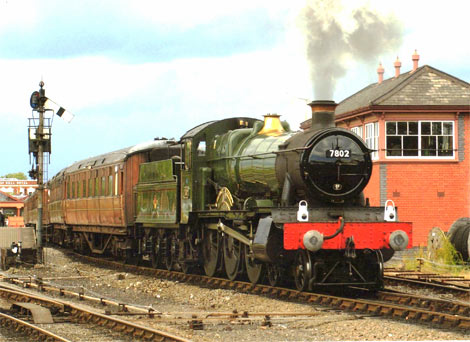 Again leaving Kidderminster 7802 shows off the new tender in August
About the same time, the similarly worn 4000 gallon tender wheels were swapped with a recently re-tyred spare set owned by the fund. These had been purchased many years ago from a South Wales steelworks where they had been previously used on a tender adapted for carrying steel billets. While the large tender was out of traffic for a month, the opportunity was taken to run in the new 3500 tender destined for 7812 behind 7802. With only a short trial run down the line, our new EMF built tender was pressed straight into revenue earning service, completing about 2000 miles of trouble free running over the next month, something of a previously unpublicised triumph for the Fund. There was much favourable comment on the combination, especially from footplate crews who for a change could see where they were going in reverse! After this the 4000 gallon tender was restored to 7802 in time for the very successful mainline run to Aberystwyth on 16th September.
The second period out of service was during November when a leaking firebox flange, which was found cracked along an old BR weld, was very skillfully repaired from the inside by Graham Beddowes boilershop team without having to remove any cladding plates. The loco was returned to service to assist with the remainder of the heavily patronised Santa services.
7812 Erlestoke Manor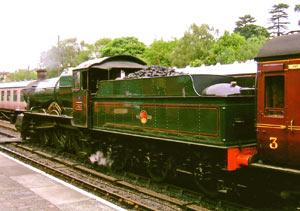 7802 with new tender showing increased visibility.
Following the bogie swap, we now we have to refurbish the ex 7802 bogie for 7812, and although recently placed temporarily under the loco, it is now about to be removed again to permit the tyres to be renewed and complete its refurbishment. The rest of the chassis is generally complete with motion and brake rigging assembled. It will not be long before it is moved round to the boiler shop to receive the already overhauled boiler, currently being fitted with an entirely new smokebox and chimney.
The SVR, facing a possible loco shortage in the next year, are now very anxious to see 7812 in service as soon as possible. They are keen to offer SVR resources to accelerate the remaining work, but understandably sought assurances from the trustees that we weren't secretly planning to move our locomotives elsewhere! We were readily able to assure the SVR that, based on our relationship with them to date, the Fund remains fully committed to the railway for the foreseeable future as the most appropriate "home" for both locomotives.
Lifetime SSAFA Award to Geoff Richardson
All shareholders and visitors to our shop will want to join in sending congratulations to Geoff Richardson, until recently our long-serving sales coach manager and EMF trustee, on being recently presented with a certificate commemorating his even longer service to the Soldiers, Sailors and Airmen Families Association (SSAFA). For 25 years, as Honorary Divisional Secretary of the Bewdley, Stourport and Tenbury Wells ("and all telephone boxes in between" as he puts it), Geoff has provided on an entirely voluntary basis advice and support to military families in difficulties. A clearly delighted Geoff is pictured with his certificate accompanied by his wife Joy and son MartynSo determined that funds for the charity be deployed where needed most, he had refused the purchase of a computer to assist him. The presentation of his Honorary Life Membership took place on 12th December and was arranged by Chaplain Sue Foster at the Kemp Hospice Kidderminster where Geoff is being treated on a visiting basis.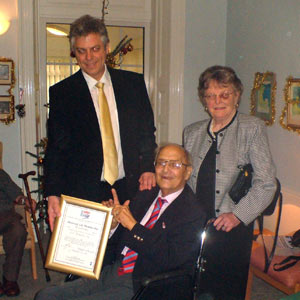 A clearly delighted Geoff is pictured with his certificate accompanied by his wife Joy and son Martyn.
DVD Review
Further to the video of some time ago of "Counties and Manors", another 'coupling' has appeared -this time 'Castles' and 'Manors'- but specifically on the Torbay Expresses of summer 2003 when 5051 "Earl Bathurst" joined "Bradley" following its' infamous hot box problem at Paignton. This hour long programme is a delight. The first half is almost entirely Castle with shots of preparation work at Bristol and very fine footplate footage of the climb of Wellington bank with commentary by driver Geoff Ewens, (who was a milkman before becoming a BR diesel driver!)
The second half of the programme is for us. Almost all "Bradley"- we see our chairman Terry Jenkins giving a comprehensive and eloquent narrative on the modus operandi of the Manor class whilst our support team scurry around on the engine in the background servicing and cleaning. (Spot our executive cleaner!). Again much footplate filming is shown and a good idea of the driving of the engine is learnt from the dry wit of driver Ewens. A sequence of the engine entering the fine Temple Meads station is memorable as is the view of the engine traveling alongside the Dart estuary at Kingswear. This DVD is a credit to all working members of the EMF fund and should be compulsory viewing.
Castle and Manor on the Torbay Express – Classic Steam Train Collection – £19.95
Treasurer's Notes – John Whitcomb
Changing tack completely, there is an interesting postscript to my article in the last newsletter about 7802 being perhaps a rather lucky survivor. I have since discovered that of the exactly 100 locos of Great Western design which found themselves in Woodham Bros' scrapyard at Barry in the late 1960's, the very last one to arrive was none other than Bradley Manor, in July 1966. This was just two months after the penultimate GW arrival, which comprised the other seven Manors from store at Shrewsbury, a batch which of course included 7812. Prior to May 1966 there had been 92 Great Western locos in the yard, but not a single Manor! Just imagine how much poorer the preservation scene of the present day would have been had those eight Manors by a stroke of the pen been sold to a different yard in South Wales or Sharpness or the Black Country. So in July of that year, 7802 made it to a secure future in the nick of time, the number of Great Western locos in Woodhams' yard hit three figures, and England won the World Cup – what a great month!
(Ref: The Barry List, 9th Edition, by The Urie Locomotive Society, published by Kingfisher Productions)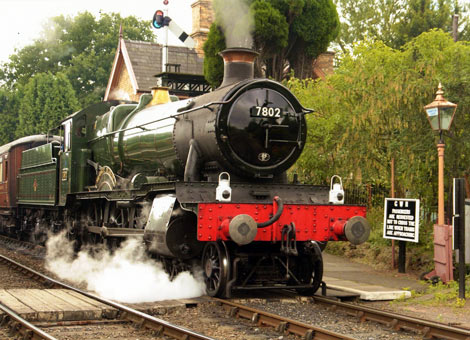 7802 (with 7812's new tender) departs Hampton Loade with Bridgnorth train August 2006