April – May Overhaul & Maintenance Update
Overhaul and Maintenance Round-up
A round-up of what the hard-working volunteers of the EMF have been up since the beginning of April:
Work on 7812 Erlestoke Manor has continued to progress at pace over at Tyseley locomotive works, with volunteers busy with contractors during April continuing the strip down and cleaning of the loco, in addition to continuing with the new build tender.
7812's chassis has now been steam cleaned, connecting and coupling rods removed together with inside motion, pipework and brake rigging to allow removal of the driving and coupled wheels. Meanwhile, white metalling of some parts has commenced.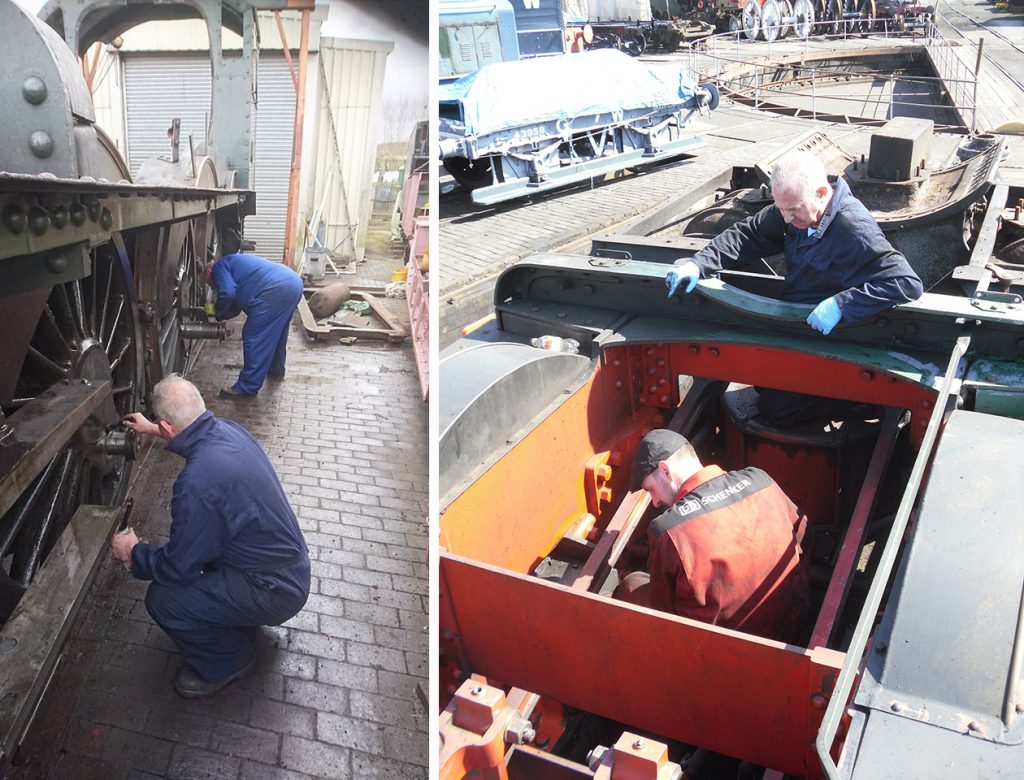 On the boiler side, 7812's boiler (GWR boiler no 6421) appears on first insurance inspection to be in reasonably good condition requiring some new side stays, copper lap inserts with associated lap rivets and further non-destructive testing of some platework areas. Once the NDT has been completed a full assessment of the necessary repairs will be possible. In the meantime removal of stays in the "breaking zones" has commenced. Stays in these areas are replaced as a matter of course during a repair such as this to try to avoid breakages, awkward repairs and unplanned downtime in service.
During early May, Tyseley Locomotive Works had 3 men working on 7812's boiler removing the copper stay heads from the first batch of copper stays to be removed: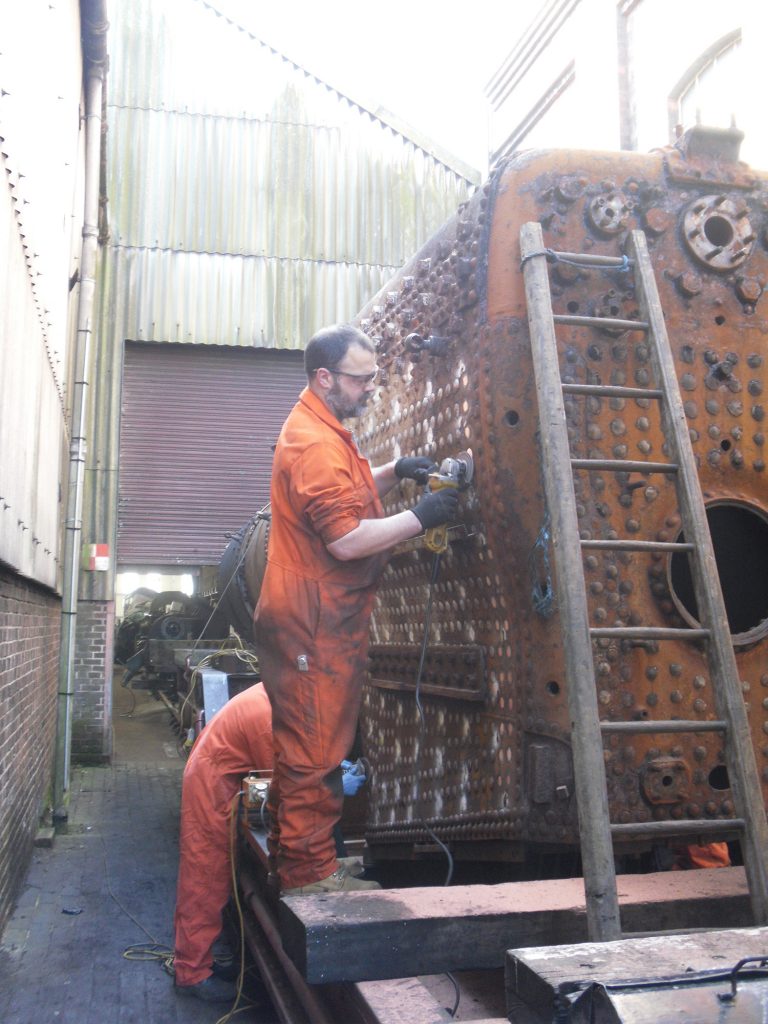 The new tender project has further advanced with the delivery and machining of two new hornblocks needed to replace recovered old items which proved defective.
Operations:
Meanwhile 7802 Bradley Manor continues to perform well in regular duties on the SVR, being in service for 24 days during April and seen here passing the site or Miners Halt during the week of 30th April:
EMF Events this year:
Following the Observation Saloon charter on 9th May, bookings are being taken for the following EMF events in the next few months:
Saturday 9th June – Full return evening charter from Kidderminster
Come along and celebrate the Queen's official birthday with family and friends. Cost per return journey £15.
Sunday 10th June – Footplate Rides from Kidderminster (limited numbers and restricted to members and spouse / partners)
This may involve shorter return trips to the carriage sheds or, possibly, to Bewdley, depending on SVR schedules and interest shown).
Tuesday 18 September – Charter Day with two full return trips from Kidderminster, in the morning and afternoon to celebrate Bradley Manor's 80th birthday.
A booking entitles two return trips for the really keen enthusiast, just a morning or afternoon return trip or travel out on the morning train with return on the afternoon train, allowing time to visit Bridgnorth. Cost per ticket – £15.
To book, please contact Peter Evans, Events Organiser, on one of:- peterevans3105@outlook.com
01527 861236 or 07808 763886
EMF Events, c/o Iona Chequers Lane, Wychbold, Droitwich Spa, Worcestershire WR9 7PH.
Or via our Websites Events Page
Payment by cheque payable to Erlestoke Manor Fund to the above address or by electronic transfer (details on request)
Come along and enjoy support EMF with friends and family