7802 Bradley Manor Overhaul – 2011-14
January 2014
Follow the contiuning progress with 7802's overhaul on our public Facebook page: www.facebook.com/ErlestokeManorFund
June 2013
Good, steady progress has been made at Tyseley over recent months on Bradley Manor's overhaul. The loco has now been moved into the new shed at Tyseley, driving wheels are in there too, ready for turning, and then the re-assembly will gain momentum over the next few months.
Bradley's wheels ready for turning. Photo by Des Ainsworth.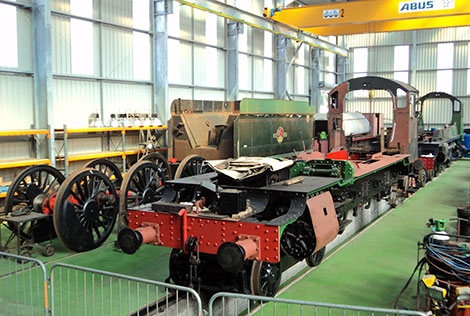 Bradley in the new building at Tyseley. Photo by Des Ainsworth.
Two photos taken on 2nd June in the new lean-to at Tyseley showing the progress on the frames with numerous items repaired and refitted. The next job will be the axleboxes followed by rewheeling. Photos by Des Ainsworth.
The new steel door plate for 7802's boiler about to be formed at Tyseley Locomotive Works. This will replace the old doorplate. The boiler itself is under repair at Bridgnorth Boilershop, targeted for completion by the end of 2013. Also to be replaced are both lower steel sides and a small section at the lower end of the throatplate. New copper stays, CNC manufactured on site at Bridgnorth, are currently being fitted. Photo by Terry Jenkins.
October 2012
A brief update of 7802's on going overhaul at Tyseley works with the with bogie now reassembled and back under loco.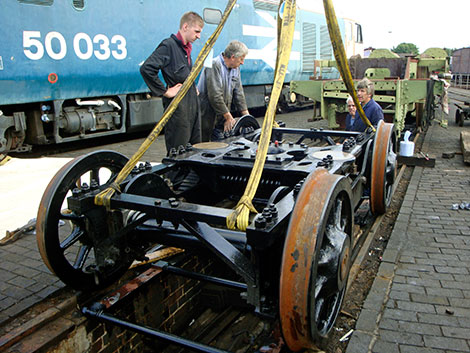 Reassembling the bogie.
The overhaul loco vacuum cylinder awaits refitting.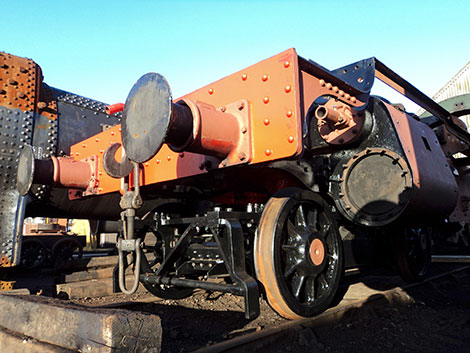 The overhauled bogie and vacuum cylinder refitted.
The overhauled bogie back under 7802.
July 2012
Regular progress continues at Tyseley with recent work including:
Piston Valve liners rebored
Piston Valves fitted with new rings, sleeves polished & valves refitted
New bogie spring hanger bolts manufactured
Crossheads remetalled
New & reground guide bars delivered for refitting
Eccentric Straps remetalled & machined
Driving & Coupled wheel axlebox repairs commenced
Coupling rod remetalling commenced
Many components stripped, examined & painted
at Bewdley:
and at Bridgnorth:
Boiler tubes & flues removed
Main steam pipe removed
Steel firebox stays being removed
whilst at a workshop "somewhere in England":
Cylinder Cocks overhauled
Cylinder Overload valves under overhaul
Other fittings being cleaned, stripped & prepared for overhaul.
Earlier this year EMF volunteers assisted with removal of the tubes and flues but the last couple of months has seen the SVR Bridgnorth staff pick up the cudgels and continue the work with removal of stays under the supervision of new boilersmith Philip Davidson. Here trainee boilersmith Colin Bromley is drilling out old stays.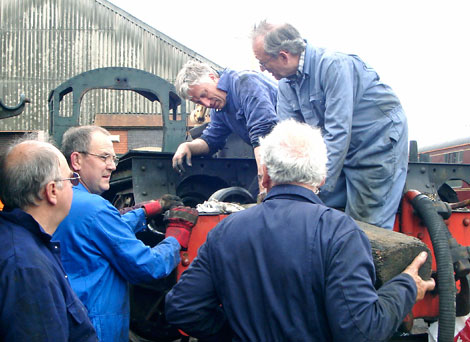 The EMF gang refitting the left hand piston valve with new rngs in the rebored valve bushes.
The expansion links have been reground and fitted with new die blocks – part of the works being undertaken at Tyseley Locomotive works. Photo by Des Ainsworth
Dean Morris boring the whitemetal liner of one of 7802's eccentric straps at Tyseley.
March 2012
Good progress continues at Tyseley on the overhaul of Bradley Manor including:
Valve gear – expansion links re-machined, new die blocks underway & most parts cleaned up for examination & painting.
Brake Rigging – with new bolts & other parts in stock & rebushing of reusable components underway.
Mainframes – cleaning & painting continues.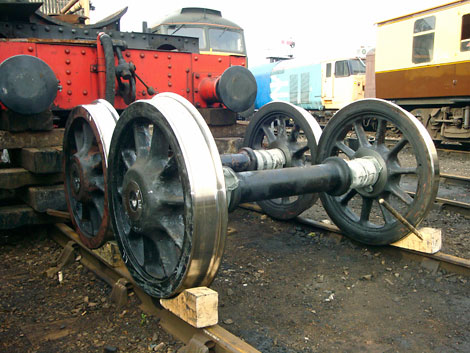 The bogie – the tyres have now been turned, the springs are away for reconditioning and all the component parts are being cleaned, examined and painted.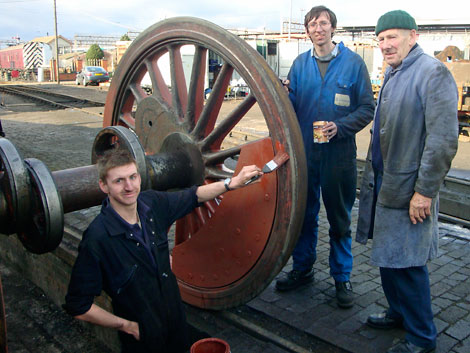 Driving wheels – 2 sets now have fresh paint – one set in undercoat the other in first coat of primer.
Meanwhile at Bridgnorth work is underway on the boiler by paid staff and volunteers – boiler tubes & steel stays are being removed in preparation for a thorough examination.
February 2012 Updates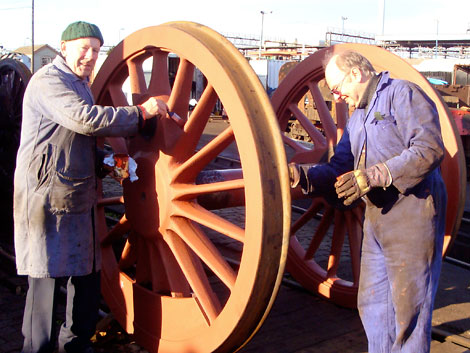 After weeks of cleaning and scraping, painting of Bradley's driving wheels has started at Tyseley. Photographed 25th February.
802 alongside 6201 and classmate 7820 at Tyseley works.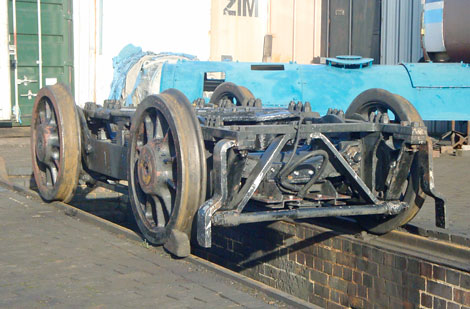 Bogie steam cleaned prior to dismantling.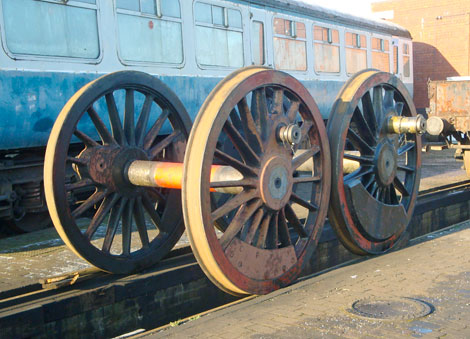 Driving wheels partly prepared for painting – more work required.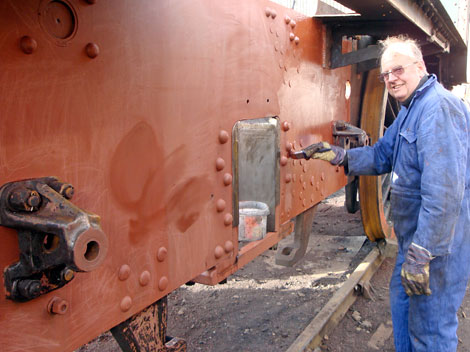 Dave Kilner applying second coat of primer to frames.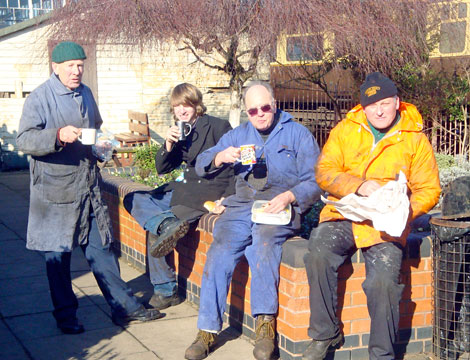 Members of working party enjoying a short break in February sun.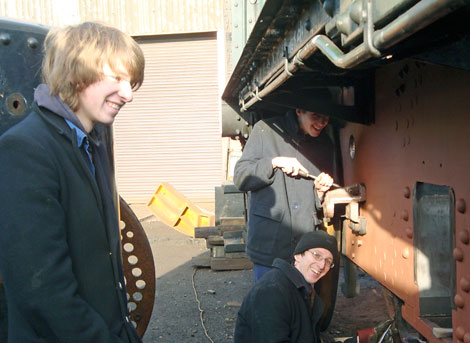 Members of working party working on frames.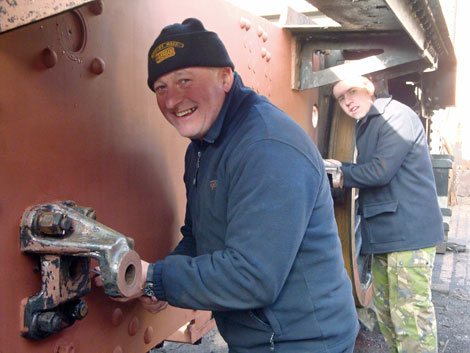 Preparing the frames for more painting.
Preparing the driving wheels for painting.
January 2012 Update
7802's separated frames and wheels flanked by dignified company, Clun Castle's boiler and Princess Elizabeth. Photo: Gerald Peacock
Preparing to dismantle 7802's bogie. Photo: Gerald Peacock
Dismantling the bogie for axle box overhaul. Photo: Gerald Peacock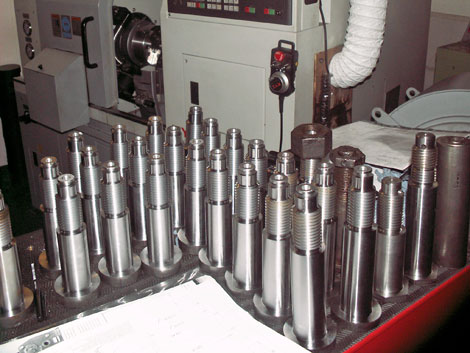 Progress on the production of new brake rigging bolts for 7802.
The Chassis is moved to Tyseley
Together with 7802's tender and 46443, both for temporary storage, 7802's chassis arrives at Kidderminster 27th October en route to Tyseley for overhaul. Photo: Richard Shaw.
7802'chassis being offloaded at Tyseley on 28th October. Photos: Dave Kilner
7802 Bradley Manor – the boiler is lifted
The Erlestoke Manor Fund (EMF) was pleased to welcome its Appeal Patron, Gareth Jones, to the Severn Valley Railway (SVR) on Friday 14th October to see Bradley's boiler lifted from the frames. Gareth was closely involved with the Manors on the Cambrian for many years and during the course of the day he related several interesting stories and anecdotes. More on these another time.
During the previous weeks volunteers had removed all the cab fittings, lubrication pipe work, blast pipe and superheater header. On Saturday 8th October a working party stripped the cladding and insulation from the boiler ready for the boiler lift the following week.
Bradley Manor was shunted around to the boiler shop on the Thursday and a good group of volunteers arrived early on the Friday morning to assist with the lift; Graham Beddow, SVR Boiler Shop Foreman, was present all day to direct operations.
The Cab roof and chimney were removed during the course of the morning and by mid-afternoon the boiler was out of the frames and on a wagon. The cab roof was then replaced on the chassis and the loco was removed from the boilershop.
By chance Erlestoke Manor had arrived from Bewdley and appropriately it took Bradley's chassis back around to the MPD Yard, where cleaning will continue for the next couple of weeks. Later this month Bradley will be moved to Tyseley Locomotive Works for a full mechanical overhaul, which is due to be completed by late spring / early summer 2012.
The boiler will remain at the SVR and volunteers will be stripping it over the coming months so that a full assessment can be undertaken to establish the scale of repairs required.
An appeal is already well underway to raise funds to ensure that the overhaul can be completed as soon as possible and enable Bradley Manor to be back in action on the SVR, alongside Erlestoke Manor.
7802 stripped and ready to enter the boilershop.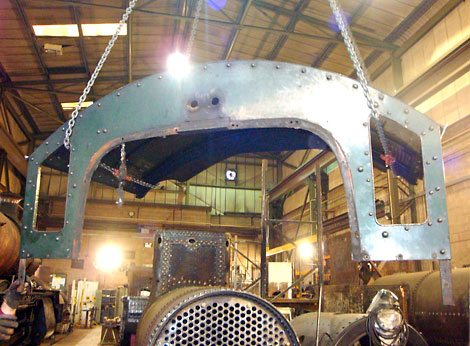 First, the cab roof is removed.
The boiler is lifted clear of the frames with Appeal Patron, Gareth Jones, looking on.
Appeal Patron, Gareth Jones (left) and EMF Newsletter editor, David Kilner, holding Bradley's name plate.
Erlestoke Manor had arrived from Bewdley and appropriately took Bradley's chassis back around to the MPD Yard, where cleaning will continue for the next couple of weeks. All photos: Des Ainsworth.