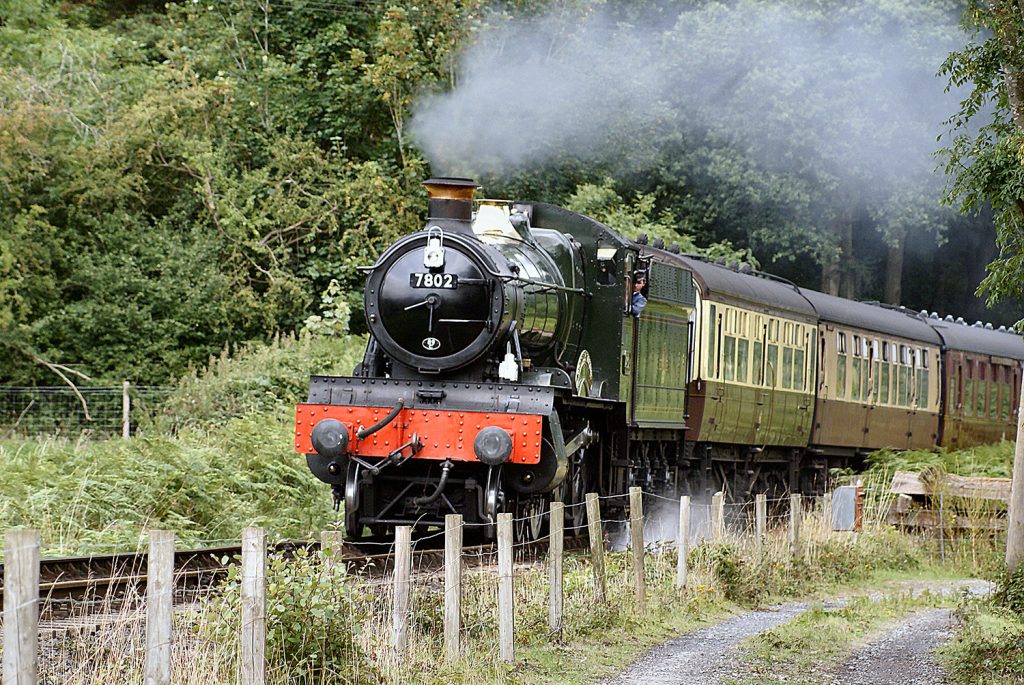 2018 sees the 80th birthday of our loco 7802 Bradley Manor, who's holding the fort on her own whilst Erlestoke's away.
To mark the occasion we have a number of members and volunteers events planned.
Wednesday 09 May – "Obbo" Trip
A morning or afternoon full return trip from Kidderminster with refreshments served in the luxurious Observation Saloon during the journey.
Cost per person per return journey inclusive of food and light refreshments:
£36 am trip
£26 for pm trip.
Family and friends welcome. To book, see below
Saturday 09 June – Return Evening Charter
This day coincides with Queen Elizabeth's Official Birthday, as she reaches 92. Come and join the event, appropriately dressed if you fancy. There may be some associated entertainment as well.
Cost per return journey £15 per person, family and friends welcome.
Sunday 10 June – Kidderminster Footplate Rides
Footplate Rides from Kidderminster (limited numbers and restricted to members and spouse/partners). Short return trips to the carriage sheds or, possibly, to Bewdley, depending on SVR schedules and interest shown.
Some "hands on" experience maybe possible subject to confirmation but register your interest with Peter (see contact details below
Tuesday 18 September – Charter Day
Charter Day with two full return trips from Kidderminster, in the morning and afternoon. Bring your own food and refreshments.
A booking entitles two return trips for the really keen enthusiast, just a morning or afternoon return trip or travel out on the morning train with return on the afternoon train, allowing time to visit Bridgnorth.
Let's make this a special event with an optional 80 quiz on board to round off Bradley's big birthday year..
Cost per ticket only £15 and that could cover two return trips! Family and friends are most welcome.
So, there you have it! All that's need now is for you to put the dates you fancy in your diaries and phones and confirm which you want to attend. Of course, you can join all four, if you want.
Numbers may have to be restricted for the Footplate Experiences but please ask your family and friends to come with you for the other three. Invite them to a great day out, combining being pulled by 7802 on exclusive member events whilst delighting in the joys of the SVR.
Actual timings will be advised for all four events in due course, when confirmed by the SVR, to those who book and on the website.
To book or enquire, please contact us using the form below or telephone Peter Evans on 07808 763886.
Cheques payable to Erlestoke Manor Fund and sent, with booking requirements, to EMF Events, c/o Iona Chequers Lane, Wychbold, Droitwich Spa, Worcestershire WR9 7PH