The Erlestoke Manor Fund is looking to raise £50,000 for 7802 Bradley Manor to:
Contribute to the cost of the boiler overhaul
Finance the completion of a new 3500 gallon tender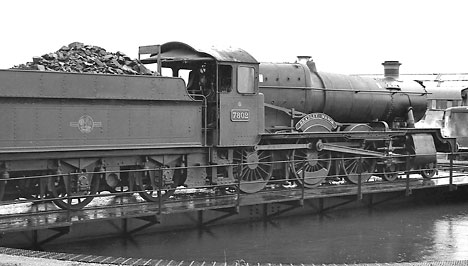 7802 Bradley Manor, with Churchward 3500 gallon tender, on an SLS Special 17th January 1965 at Welshpool. Photo© Richard Postill.
7802 Overhaul
Bradley Manor was purchased from Barry in 1979 for £7,500; at that time it was heavily stripped and had no tender. This popular performer was first steamed in preservation during 1993. Since then it has run over 110,000 miles, mainly on the SVR, but has also visited other heritage lines, including WSR, GWSR and Swanage. Bradley Manor has also had a number of mainline outings, including several trips to the south west and also the Cambrian line in Wales, but is now out of traffic for overhaul.
However, the EMF is very pleased to confirm that the next 10-year overhaul of 7802 Bradley Manor is already underway, with stripping and refurbishment of key items at Bridgnorth. In order to facilitate an early return to traffic on the Severn Valley Railway (SVR) for this very useful locomotive, a contract has been agreed for a full mechanical overhaul to be carried out by Tyseley Locomotive Works (TLW). This work will begin in the autumn for completion by late spring 2012. This EMF funded contract with SVR support ensures that other overhauls, both currently underway and planned, by the SVR are unaffected whilst enabling Bradley Manor to be back in action on the Valley that much sooner.
EMF and SVR have agreed that the boiler will be stripped during the latter part of 2011/early 2012 to allow a full examination and establish the extent of repairs required for another 10-year boiler certificate. Some finance is available, which will allow work to start in 2012 but more will be required to complete the overhaul. Therefore your help with financing this project is now being sought – by way of this share appeal – and your support is much appreciated.
Gareth Jones – Patron for this Appeal
Gareth, DBS Traction Inspector and former passed fireman at Machynlleth, says "Bradley has always been a favourite of mine and was a regular on the Cambrian Coast Express. Since its return to operation in 1993 I've had many exhilarating trips on the footplate including attending the ceremony to celebrate Bradley achieving 100,000 miles in preservation. I encourage you to help EMF return her to traffic as soon as possible."
7802 Tender Project
In a linked project, EMF has acquired a GWR 3500 gallon tender (No 2329), in ex-Barry condition. Serviceable parts from this tender will be incorporated into the Fund's current medium-term project to build a similar 3500 gallon Churchward tender for 7802 Bradley Manor, which has previously been running in preservation with a 4000 gallon Collett tender. This is a considerable project and the purchase of 2329, together with other parts already acquired, means EMF now has many of the non steel sheet and plate items required.
Boiler and Tender Appeal
EMF is now launching this fund-raising appeal to encourage further contributions from members, old and new, to assist EMF & SVR with the cost of the boiler overhaul and to help EMF complete the new tender project as soon as practicable.
Nick Ralls, SVR General Manager says:
"The Erlestoke Manor Fund is one of the most active locomotive owning groups on the SVR in both fundraising and in the expertise and labour that it provides. We are keen to increase the number of steam locos in service on the SVR and value the input of owning groups based on the railway in achieving this. "
If you need any further encouragement, an attractive range of free gifts is on offer, depending on the level of your contributions.
No. Shares
Cash or Cheque
Rewards
50
250
Bradley Polo Shirt
Available in Brunswick Green or Black and a variety of sizes
100
500
Polo Shirt & Framed Print of Bradley Manor
Framed A3 Print of your choice of photo from the Boiler & Tender Appeal Leaflet
200
1000
Above + 2 Seats on 7802 Special
EMF plans to run a special on SVR as soon as practicable after 7802 returns to traffic – details nearer the time
500
2500
Above + Footplate ride on SVR
A footplate ride on full length of SVR line – one way
1000
5000
Above + Driving Experience on SVR
A chance to have your own turn driving and firing on a return trip between two stations on the SVR
Please consider supporting this appeal and buying shares in the Erlestoke Manor Fund.
Tender project – sponsorship
Whilst the Fund has made excellent progress with the tender project (mid way between a rebuild and a new build), as noted above, additional funding is needed to continue moving forward. For space and other reasons EMF has approached this project in the reverse way from conventional by choosing to concentrate on acquiring a full kit of parts before buying new mainframes, thus allowing more rapid build progress once started. So far around £30,000 has been raised and invested in items for this project.
You may like to sponsor a particular item so you are able to identify your own contribution as part of this project; items that would particularly benefit through sponsorship are:
2 no tank vent castings £250 each
2 no steel mainframes £1250 each
1 no handbrake stand casting £300
1 no vacuum brake cylinder top cover casting £300
Steel for front dragbox £750
1 no vacuum brake cylinder piston casting £300
If you intend to sponsor a particular item, please fill in the Share Application Formand endorse it with the name of the component you would like to sponsor.
As the project progresses further sponsorship opportunities will arise.
Other ways to help Bradley Manor and EMF:
Supporting EMF's shop at Bewdley – open weekends
Providing items for sale in the shop
Locating further reusable parts for the Tender ProjectPlease email info@erlestokemanorfund.co.uk if you have information on any item that you think may
be of interest
Leaving a legacy to Erlestoke Manor Fund
In memoriam donations of cash or goods
Junior Members
EMF is keen to encourage junior members and shares can be bought on their behalf. They will receive a junior share certificate, which will give them all the benefits of membership, other than voting rights; they will automatically be entitled to vote once they reach 18.
An ideal opportunity for an unusual Birthday or Christmas present!
EMF Working Parties
These working parties take place regularly on the SVR at either Bewdley or Bridgnorth; you will need to be a member of the SVR.
Please email info@erlestokemanorfund.co.uk in the first instance. There is a range of jobs available and full training will be given to enthusiastic volunteers.